How To Spot Mold vs. Kham Yeast on Kombucha and How To Prevent it
Is that mold on my kombucha? It is a common question for people new to making kombucha. Here is some information so you can tell if your kombucha is safe to drink or not.
When you are new to brewing kombucha or any fermented drink, the first time you see the fermentation process, it can look a little bizarre.
Homemade kombucha requires a little effort and a watchful eye to get the desired results. There are a few ways it can go wrong, and one of the biggest problems is finding mold on your kombucha.
What Does Kombucha Mold Look Like?
Mold on kombucha can be spotted by looking for blue, black, green, white, or tan spots that appear dry and fuzzy.
Good kombucha growth will be wet, not dry. Mold will only appear on the surface layer because it needs air to survive. You will not see mold submerged in the kombucha.
Mold is a real fear among people who make homemade kombucha, but in reality, it does not appear very often. Usually, new kombucha makers are confused about what mold is and what is just a regular part of the kombucha SCOBY (symbiotic culture of bacteria and yeast).
You must learn to tell the difference so you don't throw out a good batch. It will also be helpful to know what you can do to prevent mold from growing in the first place. That way, you know what to look for and how to prevent it from growing.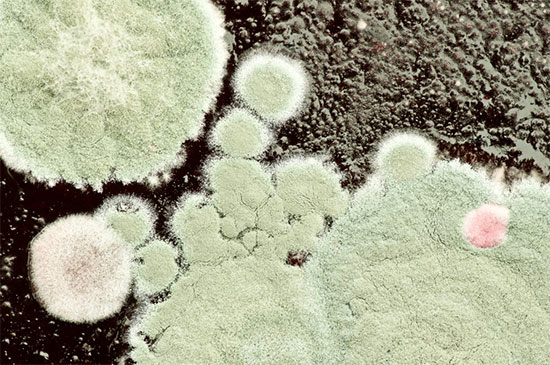 Identifying Mold
As mentioned above, mold has a few general characteristics which can help you identify it.
To start, think of the mold you have seen throughout your life, the little fuzzy circles you've seen when bread is left out too long, or you've forgotten about the cheese in the bottom of the refrigerator.
Mold on your kombucha will look just like that! It is slightly different because most foods are kept in sealed containers. Mold needs air to live, and there is not any air under the liquid line of your kombucha, so any mold that does appear will be right there on the top surface, so you should notice it quickly!
Kahm yeast looks very similar to mold and has caused many people to throw out a good batch of kombucha.
Since this is a common problem, let's look at the differences between Kahm Yeast and mold. Each has similar attributes, but they still have differences that can be identified if you know what to look for.
| | |
| --- | --- |
| Characteristics of Mold | Characteristics of Kahm Yeast |
| Fuzzy and Fluffy | Creates a film on the top |
| Multi-Colored (blue, grey, black, or white/tan) | White or Cream Colored |
| Raised | Connected, or Stringy (looks like pulled apart dough) |
| Starts out as just spots before forming a thick layer | Thin Layered |
| Looks Dusty | Trapped Air Bubbles |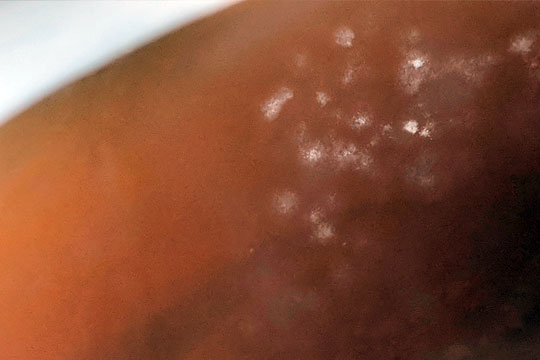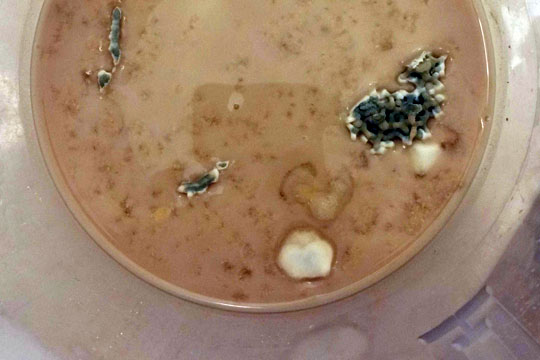 DO NOT sniff for mold (even though Kombucha already has a unique smell) because sniffing it will cause the mold spores to come right up into your nose, so using your eyes is the best option.
If you find mold on your kombucha, it is best to throw out the whole batch. This is the best practice because even though mold will only grow on the surface, it releases a 'stem.'
This means that bacteria from the mold has penetrated the surface and can cause your kombucha to taste off. It also has the potential to make you sick if you drink it.
Finding Kahm Yeast is normal, and it doesn't mean you need to throw it out. Many still throw out batches with Kahm Yeast anyway because it can change the brew's taste.
However, Kahm Yeast mixtures are safe to eat, so you'll be fine in terms of health.
In summary, to identify mold, look for the circles of fuzz with lots of colors. If you are unsure what is forming yet, give it a day or two to see if the growths get bigger and easier to identify.
If you let it grow, you'll also become better at identifying mold vs. Kahm Yeast.
Preventing Mold In Kombucha
Mold can be devastating if you are just starting your experiments of making kombucha on your own. It might happen occasionally, but there are a few things you can do to try and prevent mold from growing. Don't be too devastated if it takes a few tries.
Part of learning how to make kombucha is trial and error, so take your time and ensure you always wait a couple of days for the weird formation to develop further before throwing it out.
Users on Reddit.com suggest a variety of ways to prevent mold from growing in your kombucha. These suggestions are:
These suggestions are some of the most common ones, and many people have been able to brew their mold-free kombucha using these tips. Cleanliness is very important, as it will ensure that mold spores aren't present before you even begin the process. Don't use dirty scrubbers or rags because these can introduce mold.
Clean everything well with hot water before you begin the process to ensure you start with a clean slate. This step will also help you determine how and when the mold was introduced.
You can also prevent mold by placing your kombucha in the right area. If your kombucha mixture is sitting right next to the trash can, you will get some airborne mold spores there.
Mold spores can also come from unwashed fruits and vegetables or other nearby kombucha or fermentation mixtures.
If you are brewing with a plastic jar and consistently get infections, it is possible that the container has some minor scratches and is harboring contaminants.
In this case, I recommend replacing your jug with a glass one.
Always use the best sugars and teas because they will improve the overall quality of the mixture.
Make sure that the mixture is acidic, and if necessary, do some pH testing to ensure it is on the lower end of the scale. The lower the pH scale, the less likely it is to develop mold.
featured image of fuzzy mold growing on kombucha - photo credit