How to Prevent Kombucha Bottles from Exploding During 2nd Fermentation
There are four main causes of bottles exploding during fermentation, pressure build-up from over carbonation, using wrong bottles, too much sugar, and warm temperatures. Learn how to prevent bottles from exploding during the fermentation of your favorite drinks.
Making kombucha, tepache, beer, or any other fermented drinks in the comfort of your own home can be a lot of fun – you get to experiment, put your own spin on drinks, and consider yourself something of an amateur chemist!
All that being said, you do need to be careful, especially during the second stage of fermenting kombucha, ginger beer, root beer, and homebrews. Obviously, the last thing you want is shards of glass flying across the room. Injuries or even blindness are – unfortunately – entirely possible.
An explosion once happened to me while I was brewing beer for the first time – I was not home at the time and fortunately had no valuables in the room, but the point is I did not take the dangers seriously enough. From then on, I've done my research, learned about what and what not to do, and have avoided the problem.
In this post, we're going to look at why bottles explode and how to prevent them from ruining your kombucha or beer crafting experience.
Check out my review of the best bottles for kombucha brewing.
What Causes Bottles to Explode while Fermenting?
Pressure Build-Up in the Bottles
The main culprit behind exploding bottles is pressure. Both kombucha and beer are carbonated beverages, meaning that they give off CO2. When carbon dioxide doesn't have enough room to expand into well, you have an infamous bottle bomb on your hands.
Using the Wrong Glass Bottles During the Second Fermentation
Another common cause of bottle explosions is that the bottles may be low quality – the glass simply isn't strong enough to withstand the carbon dioxide pressure. To get around this problem, look for bottles from beer manufacturers (but NOT screw top bottles). The thicker the bottle, the better!
Invest in swing-top resealable bottles made for brewing. The gasket and metal bailing are much more likely to fail than the glass, so they're much safer, and it's fairly easy to open them slightly to bleed off the pressure. Do not use square bottles, as these are not great at withstanding pressure.
Adding Too Much Sugar to the Second Ferment
Putting too much sugar in your drink is referred to as "over-priming" – this is a problem for both beer kombucha and beer because it gives yeast too much sugar to ferment, leading to higher carbon dioxide levels.
Warm Temperatures
Heat is another problem for bottles. Some basic chemistry: heat causes the liquid to expand and generates carbon dioxide (and all other gases) to become "agitated" and race around. As you might guess, both are bad for the integrity of your bottles.
During 2nd fermentation, try keeping them in the range of 75-82 degrees if possible. The closer you can get to the upper-temperature range, the faster your kombucha carbonation builds up.
With Kombucha, the 2nd fermentation will take 2-7 days. The warmer the temperature, the faster the fermentation so keep a close eye on its progress.
How to Prevent Your Kombucha Bottles from Exploding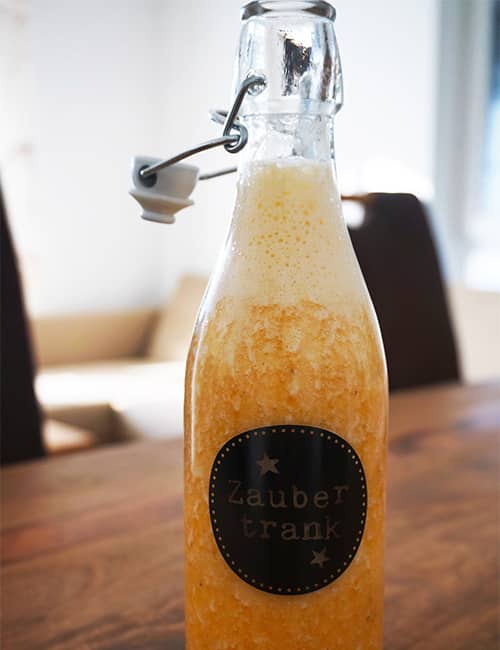 During the second stage of fermenting kombucha make sure you don't add too much fruit or fruit juice.
Why? Well, because they have sugar in them, it's the interaction between yeast and sugar responsible for carbonation. If you add too much sugar, the yeast will produce too much carbon dioxide, and then you've got an exploding bottle on your hands!
You should be safe with around 20% fruit or fruit juice and 8% kombucha. As you become more experienced, you can experiment a bit, but you always need more kombucha than fruit or fruit juice. To stay on the safe side, never go lower than 70% kombucha.
We mentioned earlier that carbon dioxide needs room to expand – for kombucha, you should leave between 1 and 2 inches of headspace between the highest level of liquid and the cap.
As for the building pressure, you need to use airtight bottles (avoid mason jars). For kombucha, bottles around 58 psi are usually sufficient.
A simple trick to prevent bottles from exploding is to use one soft plastic bottle with each batch of glass bottles. When the Kombucha has ample fizz due to carbon-dioxide build up the plastic bottle will turn hard. Now you know it is time to put them in the refrigerator.
You can always "burp" your bottles for peace of mind. Just don't do it too much or else you will lose all the carbonation that has been building up.
Before opening the bottles of flavored kombucha, put them in the fridge for a day or two to reduce the pressure.
How to Prevent Bottles From Exploding When Making Beer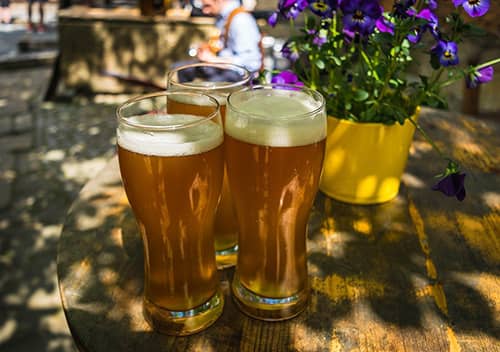 When making beer for the first time, people may get excited and cut corners. Rule 1 when making beer: you need to allow time for it to fully ferment! It takes two full weeks for primary fermentation.
Leaving about 1 inch (2.5 cm) between the highest level of liquid and the bottom of the cap is a good rule of thumb – you may need more room, so be sure to check out your recipe.
Additionally, be sure not to overprime – 3/4 of a cup per 5 gallons of beer is an excellent general guideline.
Finally, store your bottles in a cool place. Keep them out of direct sunlight by putting them in your basement or garage, or otherwise in a refrigerator.
By the way, when you store your beer in a low-temperature, low-light area, you'll be preserving its taste, too, so you'll be effectively "killing two birds with one stone."
Before opening the bottles of beer, put them in the fridge for a day or two to reduce the pressure.
How to Protect Yourself When Opening Glass Bottles
All the above tips will help you avoid a disastrous bottle bomb but it's still a good idea to be cautious when opening your bottles. After all, what do you have to lose by taking extra precautions?
You should wear gloves to avoid cuts on your hands, along with goggles or glasses to protect your eyes. A jacket or sweater is also a good idea to protect your arms.
Wrap the bottle in a bag before opening to help contain any flying glass shards.
Keep the bottles in a cooler when opening so that a potential explosion can be as confined as possible. If you're taking the bottles outside to open, move the entire cooler and don't take out one bottle at a time.
All this may seem like a bit much, but flying glass is nothing to joke about!
Did I answer all of your questions about how to avoid bottles exploding during fermentation?
In this article, we took an in-depth look at what causes glass bottles to explode during the fermentation process.
We examined all the causes, explored all the dos, and don'ts about the second stage of fermenting kombucha or beer correctly. 
Ultimately, we answered the question of How to Prevent Bottles from Exploding During 2nd fermentation.
Lastly, check out my recommended products page.
The products you see here are items I own, have used, or in some cases, researched fully, so I know they are the highest-rated and will get you precisely what you need.