While store-bought options like Activia probiotic smoothies can be a convenient way to get that beneficial bacteria into your diet, it can often be cheaper - and more delicious - to whip up your own version at home.
That's why we came up with a list of the best sources of probiotics to add to any smoothie recipe packed with gut-friendly ingredients, no added sugar or preservatives, and, of course, those beneficial probiotics. And yes, it still tastes good!
In this article, we'll look closer at the importance of a healthy gut and show you how to make the ultimate probiotic smoothie to leave your gut feeling happy and healthy.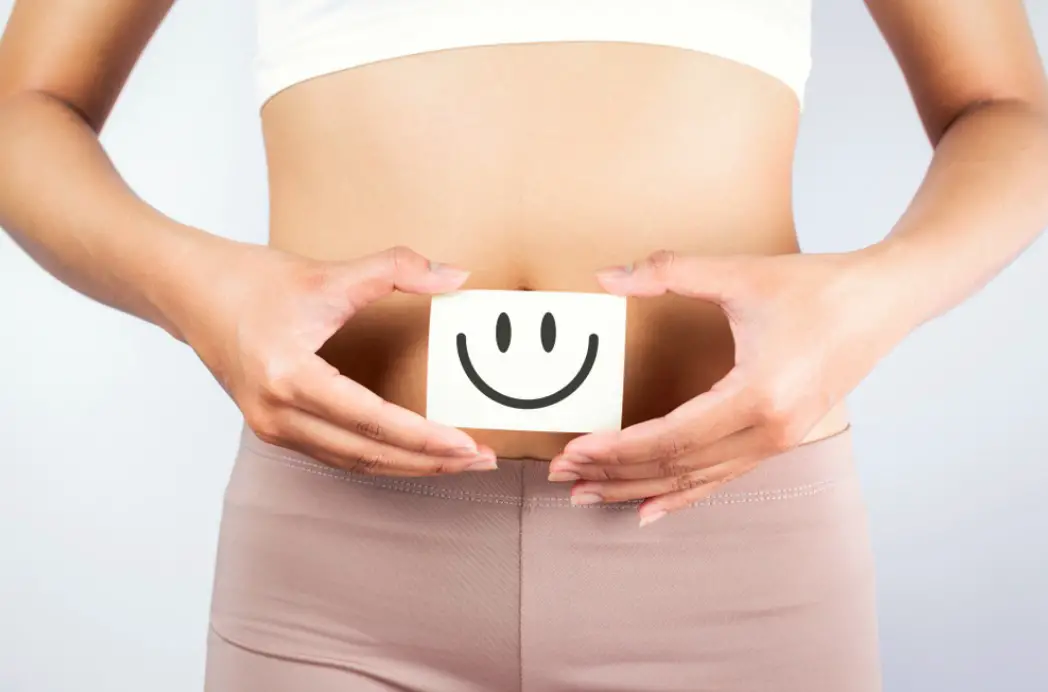 Why Probiotics Matter for Gut Health
Before we get into the recipe, let's explore the benefits of probiotics for gut health. The gut microbiome is home to various bacteria, viruses, and fungi that can play a crucial role in maintaining our overall health despite their common association with illnesses.
These microorganisms can do everything from aiding digestion to regulating our immune system, so they're certainly something you want to keep around.
An imbalance of these microorganisms in our gut microbiome can lead to various health problems, like minor digestive discomfort and mental health issues. And this is exactly why probiotics are so important.
Consuming enough probiotics regularly can help maintain that ideal, healthy balance of bacteria in our gut. This, in turn, promotes optimal digestion and overall wellness.
How To Add Probiotics To Smoothies
Here are 12 different whole-food ways to add probiotics to smoothies.
If you're looking for delicious and convenient ways to incorporate probiotics into your daily routine, look no further than our collection of the best probiotics to add to any smoothie recipe. In this article, we'll share 12 easy-to-find sources of probiotics to add to your favorite fruit smooth recipe that will not only tantalize your taste buds but also help you maintain optimal gut health.
1. Unsweetened Yogurt: The Creamy Probiotic Powerhouse
Swap the milk in your smoothies for unsweetened yogurt to unlock the benefits of probiotics while enjoying a creamy and satisfying drink. Plain yogurt is a versatile ingredient that can improve symptoms of bloating and aid in digestion. Unlike milk, yogurt contains pre-digested lactose, making it easier for your body to process. Opt for plain yogurt over low-fat or flavored varieties, as they often contain added sugars. Enhance the natural sweetness of your smoothie by incorporating fresh fruits or a drizzle of honey.
Not all yogurt brands have probiotics; check out our post - Does all yogurt have probiotics? 
Shortlist: Best Brands of Yogurt that have Probiotics
2. Coconut Yogurt: Dairy-Free Alternative
Coconut yogurt is a great option for those looking for a dairy-free probiotic source. It is rich in gut-friendly bacteria and dietary fiber. 
While coconut yogurt doesn't contain as much protein as cow's milk yogurt, it does provide medium-chain fatty acids. If you miss the protein, you can add some protein powder or 1-2 tablespoons of chia seeds to thicken your smoothie. 
GT's Cocoyo Living Coconut Yogurt and Cocojune Cultured Coconut are two yogurt brands that make coconut yogurt with probiotics.
3. Milk Kefir: The Digestive Delight
Kefir, a fermented dairy product, is packed with probiotics that can help regulate digestive troubles. Just one 8-ounce serving of kefir provides around 20% of your daily calcium needs and beneficial amounts of vitamin B12, biotin, phosphorus, and 10.5 grams of protein. Check out our homemade milk kefir recipe. Or, find out which kefir brands are the best to buy.
Try this recipe: Banana Kefir smoothie -A creamy, delicious smoothie made with bananas, kefir, maple syrup, and a splash of vanilla.
4. Kefir Water - Another Dairy-Free Alternative
Water kefir is a dairy-free and gluten-free probiotic. And because of that, it is very different from milk kefir.
Kefir water is a fermented, fruit-infused water, similar to a ginger bug in that it's slightly fermented and effervescent-but it is fermented with live water kefir grains, which are a yeast-bacteria that are believed to originate from the pad of a cactus plant in Mexico.
5. Coconut Kefir - water kefir + coconut water
Coconut kefir water is just kefir water that has been brewed with coconut water. Coconut water is naturally high in electrolytes, enzymes, and nutrients, making this an exceptional addition to any probiotic smoothie.
Try this recipe: Strawberry Coconut Kefir Smoothie
Ingredients:
1 cup coconut kefir
½ cup strawberries
½ ripe banana
1 tablespoon flax seeds
1 teaspoon vanilla extract
Optional: maple syrup or honey to taste
Instructions:
Place all the ingredients (coconut kefir, strawberries, ripe banana, flax seeds, vanilla extract, and sweetener) into a blender. Blend until smooth, and enjoy!
6. Kombucha
If you have some kombucha in your fridge or know how to make your own, adding it to your smoothie can provide a dose of healthy bacteria and probiotics. The enzymes and antioxidants in kombucha support the immune system and promote a healthy digestive system. Check out our easy 1-gallon Kombucha recipe.
Try this recipe: Blueberry Kombucha Smoothie
1 ¼ cups of kombucha, ginger or lemon flavors kombucha go great with blueberries
2 tablespoons of lemon juice
1 cup of frozen blueberries (blackberries are a delicious alternative)
½ banana
1 cup of mango or pineapple chunks
3 tablespoons of agave or maple syrup
7. Whey Ice Cubes
Whey is that yellowish liquid that rises to the top of yogurt. Many people stir it back in, but I prefer to drain it off. You can strain yogurt, kefir, cultured buttermilk, clabbered milk, and some cheeses to obtain whey.
Adding whey ice cubes to a fruit smoothie is a genius-level life hack for introducing probiotics to any smoothie recipe.
Simply freeze some liquid whey in an ice tray. Those ice cubes can later be blended with fruit, juice, more cultured dairy, or other flavorings for a delicious, probiotic-rich smoothie.
Try this recipe: Quick Probiotic Smoothie made with Whey Ice Cubes
10-12 whey ice cubes
4 cups liquid (milk, juice, water, dairy-free milk, or any combination)
Fresh fruit
Flavorings
Sweeteners to taste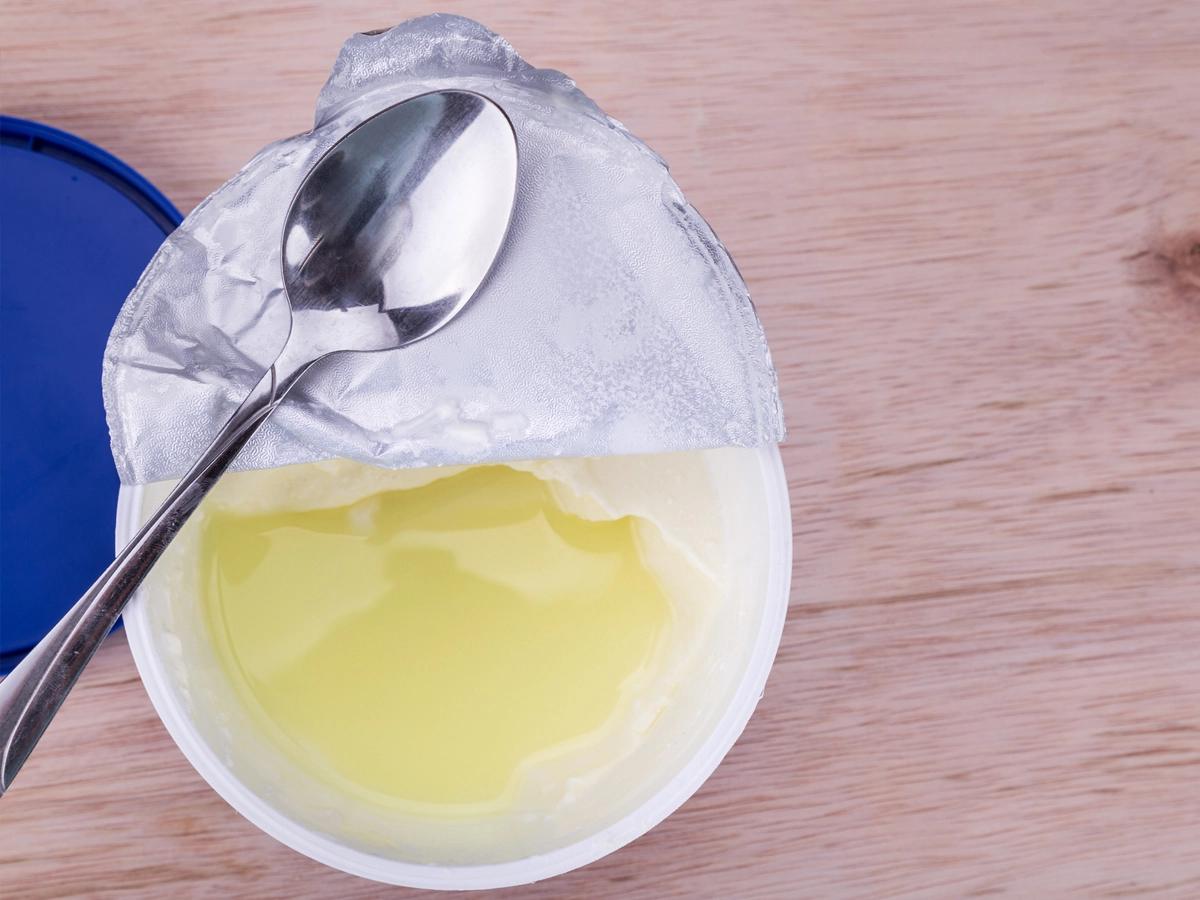 8. Probiotic Protein Powder: The Power Combo
When you want to elevate the protein content of your smoothie while reaping the benefits of probiotics, a protein powder infused with probiotics is the perfect solution. These protein powders offer a balanced blend of protein, probiotics, prebiotic soluble fiber, and digestive enzymes, fostering a healthy balance of bacteria in your gut. They are an excellent alternative for individuals who are lactose intolerant or prefer a tanginess-free option.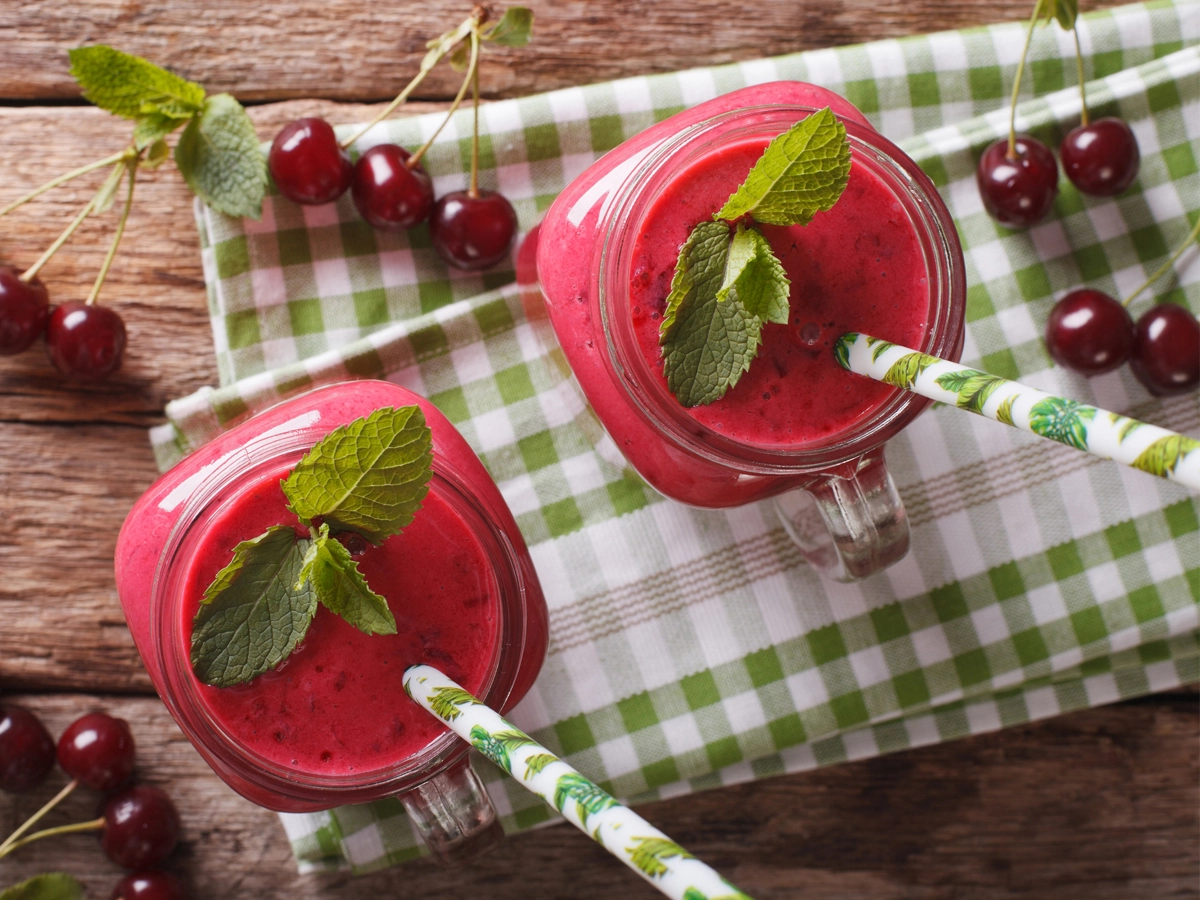 9. Fermented Beet Powder
Fermented beet powder is rich in probiotics and micronutrients that help support systemic wellness and can be especially good for your liver, heart, and brain.
Try this recipe: Cherry Smoothie made with Beet Powder
1 cup frozen dark sweet cherries
1 cup frozen riced cauliflower
1 frozen banana
1 cup coconut, almond or cashew milk
2 tablespoon chia seeds
2 scoops HumanN SuperBeets Black Cherry
fresh cherries and mint sprigs for garnish optional
10. Beet Kvass
Beet Kvass is an Eastern European probiotic drink with beets, sea salt, and water. Full of healthy probiotics from Lacto-fermentation, Beet Kvass is believed to help boost immunity. It tastes slightly sweet, tangy, earthy, and salty- but in a good way!
Try this recipe: Mixed Berry Smoothie with Beet Kvass
Ingredients: 
½ cup plain greek yogurt
2 tablespoons Flax Seeds
1 tablespoon Beet Kvass
1 frozen banana 
1 cup frozen mixed berries 
1 tablespoon water 
2 tablespoons Honey or maple syrup
11. Raw Apple Cider Vinegar
Organic, raw, unpasteurized, and unfiltered apple cider vinegar (ACV), like Bragg's, is great for salad dressings and skincare and is also a natural probiotic. ACV has a strong taste, so incorporating it into an elixir or smoothie recipe can make it palatable.
This Apple Cider Vinegar smoothie is made with kale, parsley, banana, mango, and ACV for a refreshing snack. 
Try this recipe: Green Smoothie with Apple Cider Vinegar
1 banana peeled and sliced
1 apple chopped
1 cup mango or pineapple fresh or frozen
½ cup kale or spinach
¼ cup parsley
2 stalks celery
1 tablespoon flaxseeds
1 tablespoon apple cider vinegar
4 cups water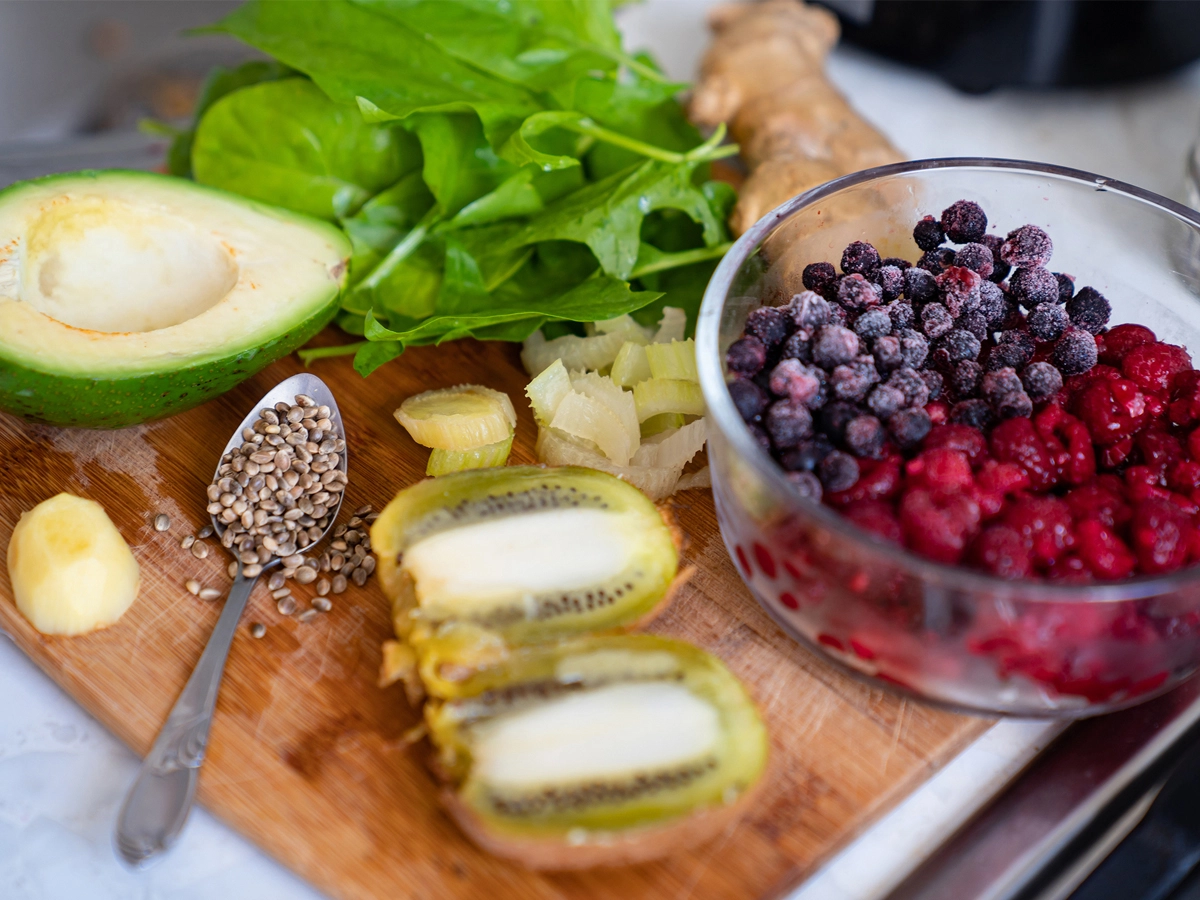 12. Fermented Fruits & Vegetables
Try experimenting with other kinds of fermented foods. Like those found in sauerkraut, or other fermented veggies like pickles, radishes, carrots, lemons, or fermented turmeric can be a great choice.
Try this recipe: Fruit Smoothie made with Sauerkraut
¼ cup frozen blueberries or mixed berries
¼ cup sauerkraut
½ cup spinach
⅛ avocado
¼ apple chopped
3" chunk cucumber sliced
1 medium celery stick, chopped
1 tablespoon unpeeled fresh ginger
⅓ cup parsley
1 scoop vanilla protein powder
⅓ cup low-sugar juice or water kefir
ice cubes
add water if too thick
These twelve methods offer a variety of ways to incorporate probiotics into your smoothies, allowing you to enjoy their health benefits while indulging in delicious flavors. Choose the option that best suits your preferences and dietary needs. Cheers to a healthy gut!
Ingredients for the Ultimate Probiotic Smoothie
Now that you have a better understanding of what probiotics are all about, let's take a closer look at the ingredients in our ultimate probiotic smoothie recipe:
Berries: An excellent source of gut-friendly vitamins and minerals, these tasty fruits are also full of fiber and low in sugar. Blueberries are especially well-known for their probiotic content.
Kefir: Similar to drinkable yogurt, this fermented dairy product has its fair share of probiotics. It may even have anti-inflammatory properties! And if you want to make the most of it, here are some of the best kefir to buy for gut health.
Chia seeds: This superfood is not only a great source of protein but also full of fiber, which is known to help promote healthy digestion and reduce constipation. You'll also get some omega-3 fatty acids from chia seeds, which have anti-inflammatory properties that may help improve gut health.
Almond Milk: While you could use dairy or other types of milk in this smoothie, we chose almond milk because it's low in calories and fat. And as a bonus, it's also a great source of vitamin E, a powerful antioxidant.
Bananas While some believe they can cause constipation, bananas are actually a good source of fiber, which can help promote digestion by adding bulk to the stool. Even better, bananas are also full of prebiotics, which help feed the beneficial bacteria in the gut.
Honey: It's not just a natural sweetener - it also contains antioxidants and antibacterial properties. These can help protect the gut from harmful bacteria and reduce inflammation.
The Ultimate Probiotic Smoothie Recipe
Sounds pretty good so far, right? Well, then, let's mix them all to create the ultimate probiotic smoothie!
Ingredients
1 cup frozen mixed berries
½ cup unsweetened almond milk
½ cup plain kefir or other probiotic source
2 tablespoons chia seeds
½ banana (optional, for extra sweetness)
1 tablespoon honey (optional for extra sweetness)
Ice cubes (as needed)
Instructions
Step 1: Add all ingredients to a blender, and blend until smooth.
Throw in the frozen berries, almond milk, kefir, chia seeds, banana (if using), and honey (if using). Then, simply turn it on and blend all the ingredients until smooth.
Step 2: Adjust as necessary.
Give it a taste, and make adjustments as necessary. For example, add more liquid or ice if it's too thick. Or, if it's not sweet enough, try putting in more honey.
Step 3: Let it sit for a few minutes.
You don't have to, but you can let the smoothie sit for a few minutes to allow the chia seeds to expand and thicken the mixture.
Step 4: Stir and serve.
Once everything is to your liking, stir the smoothie and serve immediately. Store any leftovers in an airtight container.
Variations and Tips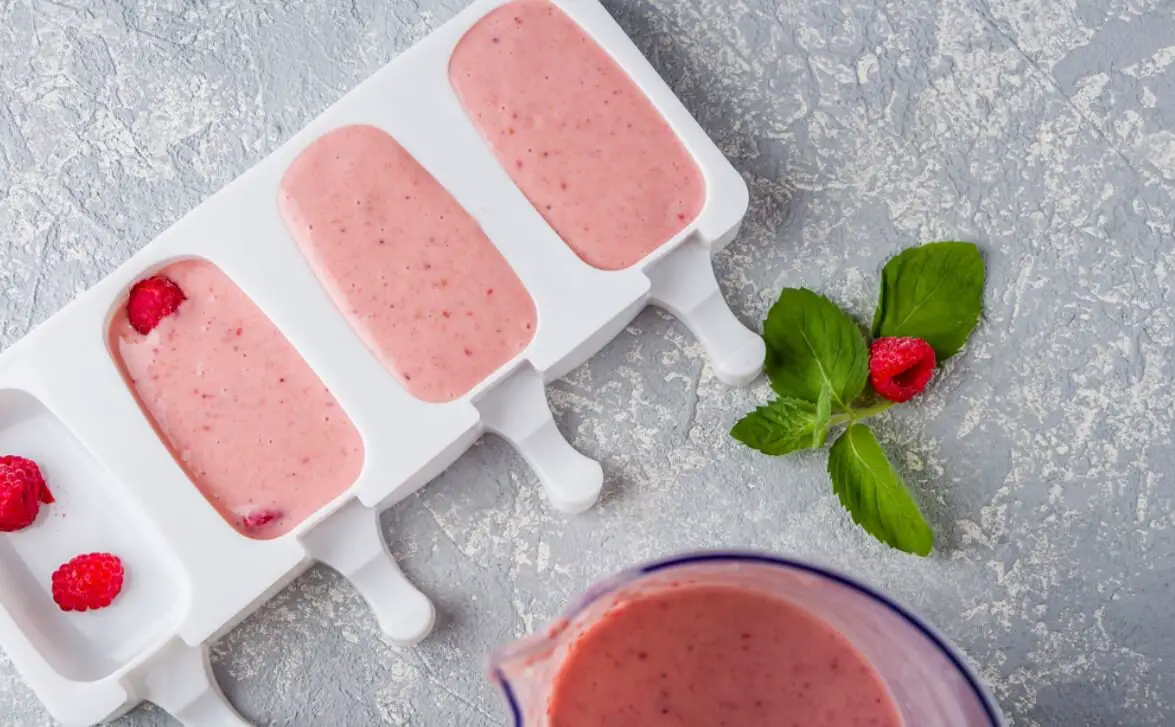 As everyone has their own tastes and preferences, there is always the chance that this exact recipe will not be to your liking. But that's the great thing about smoothies - they're super versatile and customizable! So, here are a few variations and tips for making YOUR ultimate probiotic smoothie:
Mixed berries not your thing? Try replacing them with just your favorite berry, like blueberry, strawberry, or mango, for a more tropical feel.
Use coconut or oat milk instead of almond to change up the flavor.
If you don't like the texture of the chia seeds, try grinding them up or replacing them with ground flaxseed. Or, why not use both?
Freeze the smoothie into popsicles for a healthy and refreshing summer treat.
It's Smoothie Time!
If you're looking for an easy and delicious way to support your gut health, it's hard to go wrong with our ultimate smoothie recipe. After all, it's packed with fiber-rich fruits, fermented foods, and beneficial probiotics, which are all excellent for your gut microbiome and, in turn, your overall health.
Plus, endless customization options allow you to easily adapt this recipe to your taste preferences and dietary needs. Now, all that's left to do is break out that blender and start experimenting - your new favorite smoothie awaits!