What does eggplant taste like? Eggplants have a mild, bland, and slightly bitter flavor. The mild taste and sponge-like texture of eggplant can easily absorb the flavor and aroma of the oils and any other ingredients it is cooked with, making it a tasty addition to any recipe.
What Does Eggplant Taste Like?
The smaller and less mature an eggplant is, the sweeter it will be. Because of its texture and bland flavor, people compare them to zucchini or yellow squash.
The inside of raw eggplant is, by far, the most prized part because of its versatility.
Overall, the taste is not overpowering, making eggplant an excellent addition to many dishes. It lends itself well to many cooking methods.
Get ready to learn all about what eggplant tastes like, as well as its health benefits, origins, types, and how to cook with eggplant.
Are Eggplants and Aubergine the Same Thing?
Yes, the Eggplant and Aubergine are the exact same thing. Same plant, different names. So, if you are wondering what an Aubergine tastes like? This article is for you.
The Skin of Eggplant:
The eggplant's skin is a glossy purple color with a chewy fibrous texture. The skin is bitter and can be pretty thick. Most people choose to peel it off before cooking. Typically, the thicker the skin, the more mature an eggplant is.
The Seeds of an Eggplant:
Like the skin, eggplant seeds also have a bitter flavor to them and are incredibly nutritious. A more mature eggplant will have more seeds while the younger ones will have fewer seeds.
Some may scoop out and dispose of the bitter seeds before cooking the flesh, but you could also set the seeds aside and prepare them separately.
They are delicious when coated in spices and then roasted in the oven.
Is Eggplant a Fruit?
Believe it or not, eggplant is a fruit, not a vegetable. There is much debate over this, but since it has seeds within, it is considered a fruit. In fact, eggplants are in the same family as tomatoes, okra, and zucchini- the Nightshade Family.
The shape of many eggplants is similar to that of zucchini. It is more narrow at the top and then gradually widens towards the bottom. Some varieties are shorter and rounder
The color of an eggplant's skin can range from light lavender to a deep rich purple shade.
Eggplant Substitutes
Because eggplants taste similar to zucchini and yellow squash, these vegetables also tend to make good substitutes for eggplant.
So if you can't get your hands on a good eggplant, try a zucchini, yellow squash, or even mushrooms, okra, or tofu. All of these vegetables have a similar texture, and intensity of flavor and are interchangeable when preparing any dish.
Eggplant Health Benefits
Eggplants also have amazing nutritional benefits. They are low in calories and high in antioxidants, potassium, and vitamin B6.
One serving of eggplant can provide at least 5% of a person's daily requirement of copper, manganese, fiber B-6, and thiamine.
Eggplant is also a great source of essential nutrients such as vitamin C, vitamin K, vitamin B6, magnesium, niacin, phosphorus, folic acid, potassium, and more.
The antioxidants in eggplants help the body eliminate free radicals which are unstable molecules that can damage cells if they accumulate in large amounts.
How to Pick The Best Eggplant
Are you amused by what you've read so far? If so, there are a few things to note before heading out to your local grocery store to shop for an eggplant. The eggplant you see in most major grocery stores is Italian eggplant. If you are searching for one that is more specific, you could check out your local farmer's market or a specialty market.
With any fresh produce, it is important to inspect the exterior for any impurities. Once it passes that test, pick it up and gently press on it with your thumb. A ripe eggplant should feel firm but not rock solid. Older eggplants will be mushy if you puncture them, it's no good.
How to Cook Eggplant
Eggplant is a great addition in pasta dishes, stir-fries, stews, and buddha bowls, like this vegan quinoa buddha bowl with eggplant and spinach.
You can peel off the skin if you'd like, especially if the skin is thicker.
Eggplant is delicious if it is seasoned generously. One idea is to cut the eggplant into thin slices, toss in olive oil and a variety of spices, and roast it on a baking sheet in the oven.
Salt will draw out moisture and tenderize the flesh of the eggplant. In turn, this will allow the flesh to absorb all of the flavors of the spices it was seasoned with.
Don't be afraid to get creative and use whatever spices your heart desires. There is no shortage of recipes featuring eggplant that are waiting for you to try your hand at cooking them.
Have you ever had eggplant dip? Try this easy and delicious baba ghanoush recipe.
Try cooking eggplant in an air fryer; it will come out crisp and tasty – but here are some of my other eggplant recipes for inspiration.
How to Reduce the Bitterness of Eggplant
A common way to remove some of the bitterness is to soak the slices of eggplant or cubes in milk for about 30 minutes before cooking.
The milk not only tempers the bitterness, but it actually gives the eggplant a creamy buttery texture since the vegetable acts like a sponge and soaks up a good amount of milk in its flesh.
How to Store Eggplant
Once cooked, leftover eggplant should be stored in the refrigerator in an airtight container. It should be consumed within a few days; the sooner, the better.
The inside of the eggplant tends to get even softer once it is reheated. Unless you like a mushy texture, it's a good rule of thumb to avoid reheating it in the microwave. If you have an air fryer, like most Millennials these days, your leftover eggplant will greatly benefit from being reheated in there.
If you're looking to expand your palate, don't be intimidated by the eggplant. It is easy to prepare, and its flesh's mild flavor is endlessly versatile. Consider bringing an eggplant home the next time you visit the grocery store.
Types Of Eggplant
There are many different varieties of eggplant grown all over the world. Some of which are sweet, while some are slightly bitter.
The globe eggplant, also called American eggplants, is common in American grocery stores. They have a short, squatty shape and a deep purple color.
It's a great all-purpose eggplant, thanks to its meaty texture that makes it a great meat substitute; think eggplant parmesan or vegetarian lasagna.

Sweeter Tasting Eggplant Varieties
There are several types of eggplant, such as the Japanese White eggplant, Graffiti eggplant, and Bianca eggplant, that have a sweeter and pleasant taste.
Chinese Round Mauve eggplant is mildly sweet and is relatively small, the size of a tennis ball with soft skin that does not require peeling. It is lavender and has subtle patterns of purple throughout.
The Graffiti eggplant tastes sweeter and less bitter than regular eggplant. It has attractive striped markings and can range in size from small to large.
The great thing about the Grafffiti eggplant is its tiny seeds and thin skin. The skin is so thin you don't even have to peel them if you don't want to, making it quick to prepare for any recipe.
The Graffiti eggplant comes in varieties that include the Purple Rain, Fairytale, and Shooting Stars.
The Japanese White eggplant grows into a 2-3" oval. It is a creamy white fruit that can produce all season long. The fruit has a delicate flavor with little trace of bitterness and is perfect for stir-frying.
Although it is called a Japanese eggplant, it comes in green, lavender, pink, or purple with a stem that is usually dark purple. The
It is small and has an egg shape with a thin skin and sweet flavor.
The Ping Tung eggplant is never bitter and has an excellent mild flavor, sweet enough to add to any recipe without pre-salting.
The Ping Tung eggplant has an elongated shape. It grows up to 18 inches in length and is very thin, perfect for many dishes. It is long and dark purple and has flesh that is both sweet and tender. While it originated in Taiwan, this type of eggplant is widespread throughout Asia.
The Indian eggplant is often called a 'baby eggplant' because it looks like a miniature American or Globe eggplant. This eggplant's flesh is firm, crisp, and creamy white with a few edible seeds. When cooked, Indian eggplants offer a mild flavor with sweet notes and a creamy texture.
Bitter Tasting Eggplant Varieties
African Garden eggplant, widespread in Africa these eggplants are very bitter and small.
The Italian eggplant is also similar in flavor and spongy texture to the American or globe eggplant. But this Italian variety is smaller, lobed, and often shaped like a teardrop, with dark purple skin and green leaves.
Little Green eggplant is an heirloom variety that is plump and round with pale green-colored skin. It is tender and creamy with a rich flavor and slight bitterness.
Thai eggplant has a slightly bitter taste and a crunchy texture. When cooked, it produces an earthy scent. The taste turns stronger as it matures.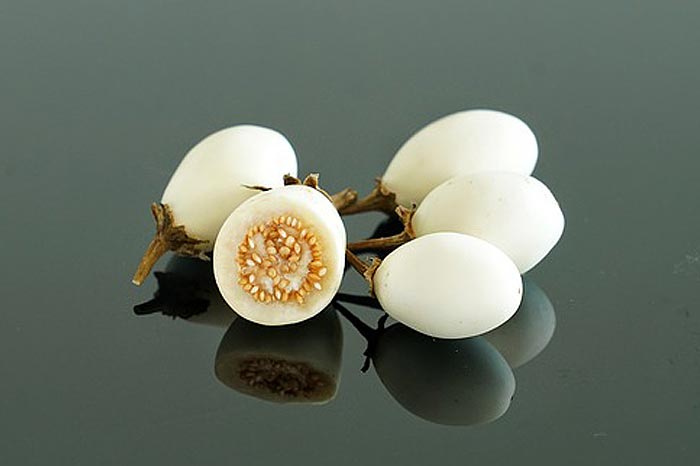 If you're looking to expand your palate, don't be intimidated by the taste of eggplant. It is easy to prepare and its mild flavor is endlessly versatile. Consider bringing an eggplant home the next time you visit the grocery store.
RELATED FOOD GUIDES
Now that you've learned all about what eggplant tastes like, here are a few things that you might find interesting…