What does Kimchi taste like?
Kimchi tastes sour, salty, spicy, and a little sweet and has excellent umami flavor from the salted shrimp and fish sauce. Kimchi is undoubtedly the most popular food in Korea, made from pickled and fermented vegetables, of which many varieties with different tastes and textures exist.
The taste of kimchi will surely get your taste buds jumping and can vary greatly depending on the ingredients used, the length of fermentation, and the amount of salt and sugar in the recipe.
Kimchi's taste profile is wide, savory, sour, salty, spicy, and umami. If it is white kimchi, a non-spicy kimchi variety, then it tastes mild and refreshing.
This History of Kimchi
Kimchi has been an essential part of Korean culture and its food history for centuries, and not surprisingly, it is the country's national dish. Today, the spicy kimchi we are familiar with was developed in the 1700s when chiles were introduced to Korea, giving the fermented cabbage its spicy kick. South Koreans consume approximately 40 pounds of this traditional Korean dish every year.
Although there are endless variations, the standard kimchi recipe in an American grocery store includes napa cabbage, garlic, ginger, salt, fish sauce, and chile peppers.
The Many Tastes of Kimchi
Because kimchi is a fermented food, it has a prominent sour flavor. During fermentation, lactic acid produced by bacteria creates a tangy, pungent flavor similar to that of sauerkraut.
Kimchi can also be spicy, depending on how much pepper you use and what kind, and may have ingredients such as fish paste, fish sauce, or anchovies. Anything fish oriented will give it a strong umami note.
Kimchi made without fish will have a lighter, fresher taste, especially if it's made with radishes or cucumbers.
Spicy Taste
One of the main ingredients in red Kimchi is Korean Chili Flakes called "Gochugaru," or Korean fermented Chili Paste called Gochujang. This is what gives kimchi its spicy flavor.
Some of the ingredients in kimchi can be hard to find at times, check our posts for guidance.
Unami Taste
Fish products such as anchovies, fish paste, fish sauce, fermented squid, salted shrimp, and shrimp paste are all common ingredients in kimchi and give it a complex flavor and umami funk taste.
Garlic and green onion also intensify the flavor profile during fermentation.
To make Kimchi vegan or vegetarian, you can substitute the fish ingredients with soy sauce, seaweed, shiitake powder, or dried mushrooms.
Sweet Taste
Kimchi made without fish or fish sauce will have a lighter unique flavor on the sweet side. A combination of vegetables and fruits such as daikon radishes, carrots, apples, pears, ginger, and cucumbers will make a sweeter taste perfect for newbies.
Nappa cabbage is one of the main ingredients and is sweeter than plain cabbage, and you can pick up on it in a kimchi recipe.
Some people find kimchi's flavor similar to Conch salad, a quintessentially Caribbean salad native to the Caribbean Islands. Both have similar ingredients, seafood, vegetables, and hot peppers.
Conch salad is mildly fishy, salty, and full of vegetables covered in a zesty vinaigrette. Some like to dip conch in soy sauce. So you can see why kimchi might be compared to conch salad.
Depending on how long kimchi has fermented, the textures can range from soft to tender to crunchy, giving off a fizzy, effervescent sensation.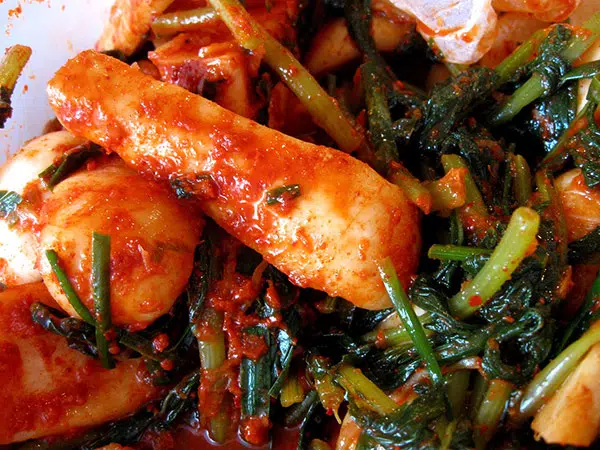 If you ever find yourself wandering the aisles of a grocery store, wondering where is the kimchi. Check out our post: Find Kimchi in the Grocery Store
What Does Kimchi Smell Like?
It packs a pungent odor that has a habit of lingering well after it has outlived its welcome, but once acquired, the taste for this spicy fermented dish is rarely lost.
In Korea, families will use a special refrigerator to store the many different varieties of kimchi at their optimum temperature and prevent its smell from tainting other food.
How Long To Ferment Kimchi
When it comes to determining how long to ferment kimchi, your personal preferences are a significant factor. If you like super sour kimchi, let it ferment longer. If you like it milder, limit the fermentation time to just a couple of hours.
Some people let it sit out on the counter for 12 - 24 hours because they like it fresh, crunchy, fizzy, and effervescent.
Others leave it out at room temperature for 2-3 days. If the fermentation time of the kimchi has been only a couple of days, then it can have a slightly sweet and oniony taste to it.
The sour taste happens during a longer fermentation process; lactic acid produced by bacteria during fermentation creates a tangy, spicy flavor similar to sauerkraut.
How to Eat Kimchi
Kimchi is a versatile dish that can be eaten on its own or cooked with almost anything. Try adding kimchi to eggs, and quesadillas, frying it into a crisp pancake, making a kimchi stew (kimchi-jjigae), or using it to flavor ramen noodle soup.
Health Benefits of Eating Kimchi
Kimchi is a probiotic powerhouse full of health benefits that include helping balance out digestion, lowering cholesterol levels, and strengthening your immune system.
The fermentation process provides lactic acid and probiotic goodness to your gut and can help when you have low stomach acid or suffer from indigestion.
It can add back some beneficial bacteria that some people miss from their diet. You can increase its probiotic properties by fermenting kimchi for a least 4-6 weeks.
How to Store Kimchi
Store your kimchi in tightly sealed containers inside a dish to collect any overflow. Also, put some baking soda, activated charcoal, or freshly ground or used ground coffee in the refrigerator to deodorize and soak up the smells.
Ready to try kimchi? Before heading to the supermarket, check out my post Where To Find Kimchi in The Grocery Store & online.
Related Kimchi Guide
Now that you've learned all about what Kimchi tastes like, here are a few things that you might find interesting...