What does Kimchi taste like?
In most cases, people say Kimchi tastes like sauerkraut, salty and sour, but I believe the flavors are much more involved. Kimchi also tastes spicy, slightly fishy, funky, refreshing, delightfully acidic with a sweetened flavor with hints of spices like garlic, ginger, and onion. 
The texture of Kimchi is often crunchy, and because of the fermentation process, it can be a little fizzy and effervescent.
It has even been suggested that Kimchi tastes like Conk salad and Ceviche. Conch salad is mildly fishy, salty, and full of vegetables covered in a zesty vinaigrette. Some like to dip conch in soy sauce. So you can see why Kimchi might be compared to conch salad.
Depending on how long Kimchi has fermented, the textures can range from soft to tender to crunchy and it can give off a fizzy, effervescent sensation.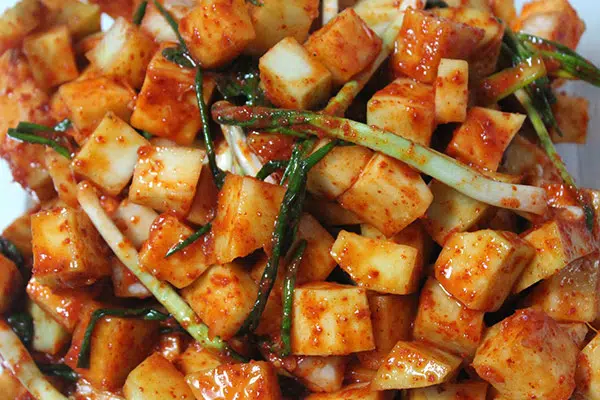 The Flavors of Kimchi
On top of that, several other flavor notes come into play from the other ingredients.
Spicy taste
One of the main ingredients in red Kimchi is Korean Chili Flakes called "Gochugaru" or Korean fermented Chili Paste called Gochujang. This is what gives Kimchi its spicy flavor.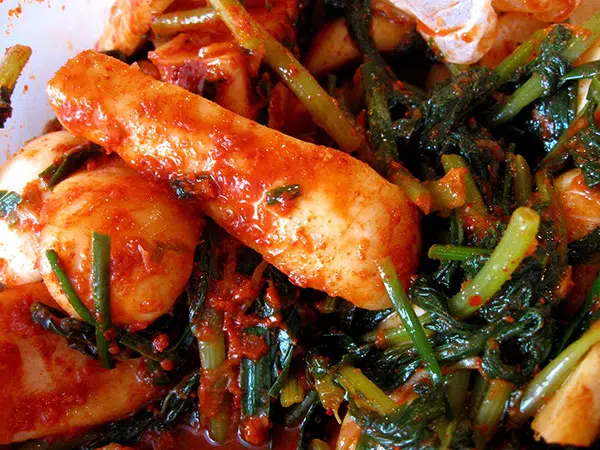 Sour taste
The 'sour' happens during the fermentation process; lactic acid produced by bacteria during fermentation creates a tangy, pungent flavor, similar to sauerkraut. Garlic and onions also intensify in taste during fermentation.
Fishy/Unami taste
Fish paste, fish sauce, fermented squid, salted shrimp, shrimp paste, and anchovies are all common ingredients in Kimchi and give it a strong fishy taste.
* To make Kimchi vegan or vegetarian, you can substitute the fish ingredients with soy sauce, seaweed, shiitake powder, or dried mushrooms.
Sweet taste
Nappa cabbage is sweeter than plain cabbage, and you can pick up on it in a Kimchi recipe. Diakon radishes, apples, pears, and carrots are also common ingredients in Kimchi.
Trying to definitively describe what Kimchi tastes like is difficult because the ingredients list is quite long, its main ingredients are napa cabbage, radish, scallion, fish sauce, Korean Chili Flakes, called "Gochugaru", and whatever fresh vegetables are available at the time.
Ready to try kimchi? Before heading to the supermarket, check out my post Where To Find Kimchi in The Grocery Store & online.
RELATED KIMCHI GUIDES
Now that you've learned all about what Kimchi tastes like, here are a few things that you might find interesting…