Best Peppers To Make Fermented Hot Sauce
When it comes to choosing the best peppers for a fermented hot sauce recipe, it all depends on your preferred spice level. You will find thousands of pepper varieties of varying heat levels, colors, flavors, shapes, and sizes.
Here is an in-depth dive into the best peppers for fermented hot sauce. You can use any combination of jalapeños, habanero peppers, Anaheim peppers, green chilies, scotch bonnets, and serrano peppers.
Since everyone's heat tolerance varies, this recommended variety list is categorized based on five heat levels: sweet to super hot. So you can choose the best peppers to make fermented hot sauce.
The shortlist:
Banana, Anaheim, and canned diced green chile peppers for mild hot sauce. 
Hungarian and Jalapenos for mild to medium fermented hot sauce. 
Habanero, Scotch Bonnet, Thai chilies, and Cayenne peppers are for the hot and spicy sauce.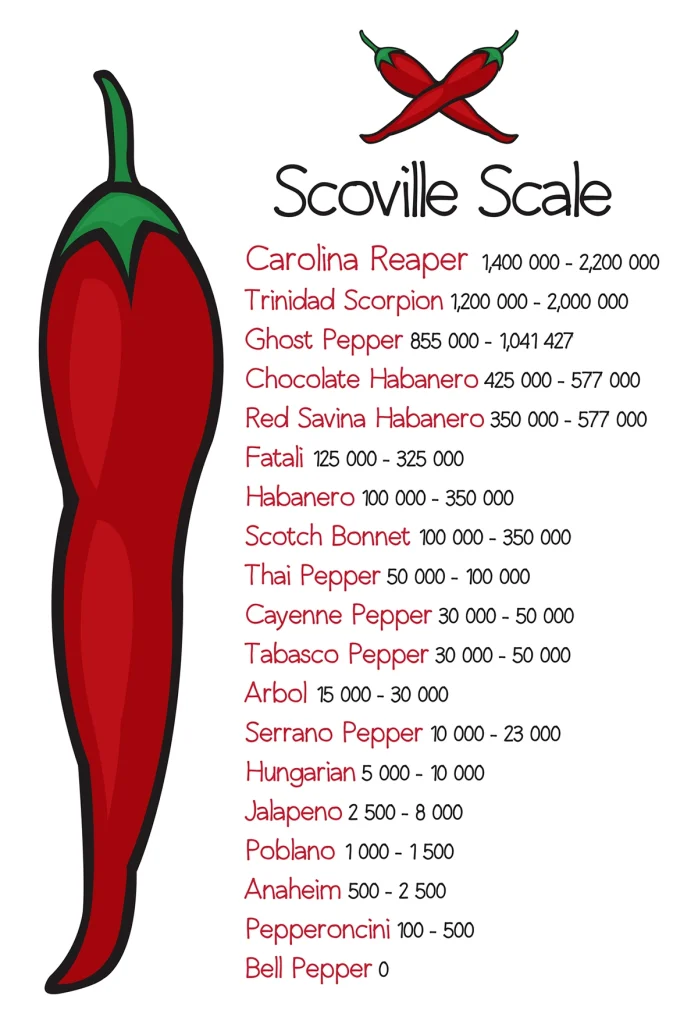 The Scoville scale measures the spiciness or heat level of chili peppers and other vegetables & fruits, as recorded in Scoville heat units (SHU), based on the concentration of capsaicin in the pepper.
Best Peppers to Use for Spicy Fermented Hot Sauce
Fermentation tends to tame the heat a bit from hot peppers; it turns a little of the heat into flavor! 
However, you can still ferment a super hot sauce using hot peppers like the Carolina Reaper, the Trinidad Moruga Scorpion, or the spicy ghost pepper.
The best peppers to pick for a spicy fermented hot sauce recipe are:
Habanero, Scotch Bonnet, Thai chilies, and Cayenne peppers. They are all in the mid-range of the Scoville heat units, and therefore they will make a tremendous spicy fermented hot sauce.
Habanero peppers
Habanero peppers produce a fermented hot sauce that is second to none.
Habanero peppers are among the hottest in the world and are flavorful and citrusy. The high capsaicin content of habanero peppers speeds up the metabolic process and decreases inflammation.
Scotch Bonnet Peppers
Scotch Bonnet peppers can also spice up the hot sauce. They have a delicious, sweet taste and a slow-building heat that packs a punch. Caribbean food uses them in jerk seasoning.
Thai chilies
Thai chilies are potent. In Asian cuisine, they're sweet and spicy. They're wonderful for adding spice to the hot sauce without dominating it.
Jalapeno Peppers
The heat levels of a jalapeno can vary drastically from no heat at all to so hot that one tiny bite will make your eyes water and mouth burn. 
Test one first to determine how many you should use in a recipe. 
Sometimes you can add 20 jalapenos and still get a mild flavor profile. 
Jalapeno peppers are frequently used in the preparation of hot sauce recipes. Although less hot than habanero peppers, they still have a delicious flavor. 
Serrano Peppers
Fresh and fiery best describe serrano peppers. They work wonderfully in moderate temperatures.
Thai chili peppers
Thai chili peppers are relatively small but pack a significant punch. They are added to hot sauces to add sweetness and spice, and Asian cuisine also uses them.
Cayenne peppers
Cayenne peppers give the hot sauce a bright, smoky flavor that's plenty of heat. The A and C vitamins they contain benefit the immune system.
You can also try making your own Fermented Salsa and Fermented Ketchup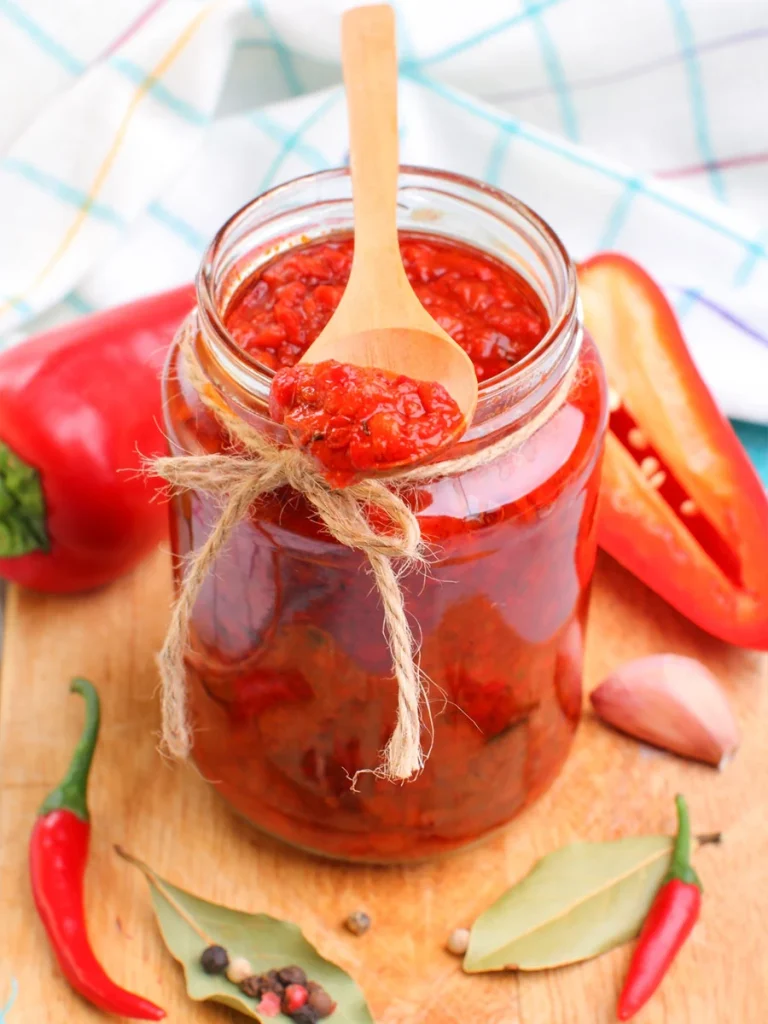 Best peppers to use for mild fermented hot sauce
If you're a hot sauce fan but prefer a milder taste, making your own mild fermented hot sauce is the perfect solution. Fermented hot sauce adds flavor and heat to your meals and provides various health benefits, including improved digestion and a boosted immune system. 
Here are some of the best peppers for mild fermented hot sauce.
Anaheim Peppers
Because of their mild heat and slightly sweet flavor, Anaheim peppers are a great ingredient for adding complexity to your favorite hot sauce. They are an excellent option for those who prefer a mild hot sauce and are frequently used in traditional Mexican cooking.
Poblano Peppers
The heat level of poblano peppers ranges from mild to medium, and their flavor is deep and earthy. In Mexican cuisine, they are utilized quite frequently, most notably in preparing chile rellenos. Poblano peppers are an excellent option for those who crave a touch of heat without being overwhelmed.
Hungarian Wax Peppers
The heat level of Hungarian Wax peppers is low, and their flavor is tangy and slightly sweet. They are frequently used in pickling and canning, and they are an excellent choice for producing a fermented hot sauce that is on the milder side.
Peppers of the Shishito Type
The heat level of shishito peppers is low, and their flavor is sweet with a hint of nuttiness. They are a common component of dishes prepared with tempura and are frequently used in Japanese cooking. Those looking for a mild hot sauce with a distinct flavor will find they are an excellent option.
Banana Peppers
The heat level of banana peppers is very low, and their flavor is sweet with a sour undertone. They are popular for making pickled peppers and are utilized frequently in preparing Italian dishes. People who want a mildly spicy sauce should go with them because they are an excellent option.
How does fermentation affect the spiciness of hot sauce?
Fermentation tends to mellow the heat from chili peppers, so fermented hot sauces are milder and more flavorful. Unfermented hot sauces tend to be hotter since these sauces have yet to undergo a fermentation process to mellow out the chili peppers.
A fermented hot sauce can enhance food flavor while also providing health benefits. One of the most appealing aspects of making fermented hot sauce is using various peppers to create a flavorful combination.
Related: How To Keep Hot Sauce From Separating
How to make the hot sauce less spicy
Creating your hot sauce can be an enjoyable and savory way to add heat to some of your favorite dishes, but there are instances when the sauce is too spicy for your taste. 
While producing spicy sauce, numerous methods might lessen the intensity of the peppers' heat without compromising flavor. 
Here are a few different methods to help reduce the heat of a bottle of fermented hot sauce.  
Add Sweeteners
It is possible to reduce the intensity of the heat in your spicy sauce by mixing in some sweetness, such as honey, sugar, or agave nectar. The sweetness may aid in generating a less intense flavor by acting as a foil to the spiciness of the peppers.
Add Acid
Adding an acidic component to your spicy sauce, such as vinegar or citrus juice, is another strategy for tempering the heat. Because of the acid, the capsaicin in the hot sauce can be broken down, resulting in a milder flavor. It has the potential to impart flavor as well as brightness to your hot sauce.
Diluting with water or other liquids is recommended.
You can lessen the intensity of your spicy sauce by diluting it with water or other liquids like lime soda or citrus-flavored juice. If you want to keep the flavor of your spicy sauce the same, this can be a decent alternative for you. 
Be sure to add the liquid gradually and taste it to prevent making the spicy sauce too watery.
How to prevent Fermented Hot Sauce from turning out too spicy
Pick Milder Peppers
Using peppers with a lower heat level will be one of the simplest ways to lessen the intensity of the heat in your hot sauce. Peppers such as a bell, Anaheim, and poblano peppers are mild peppers that can offer a taste without excessive heat. You can also combine peppers with varying degrees of heat for a more well-rounded flavor.
Take out the Seeds and Discard the Membranes
The majority of capsaicin, which gives peppers their fiery flavor, is found in the seeds and membranes of peppers. You can lessen the intensity of the heat in homemade hot sauce by removing the membranes and seeds from the peppers before you use them. 
When working with peppers, wear disposable gloves to prevent capsaicin from contacting your skin and eyes.
How to choose peppers for making fermented hot sauce
You can add some heat and flavor to your favorite dishes by using fermented hot sauce, which is delicious. When making a fermented hot sauce, selecting the appropriate peppers is an essential step in the process. 
Here are some pointers to assist you in choosing the peppers that will give your hot sauce the perfect flavor.
Take into account the Temperature.
A wide range of spiciness can be found in peppers, from mild to hot. When selecting peppers for your home-fermented hot sauce, it is essential to consider the heat level. 
Choose peppers such as Anaheim or poblano to make a sauce with moderate heat. Choose peppers such as jalapenos or serrano peppers to make a hot sauce with a higher heat level to suit your taste. Choose peppers with a high capsaicin content, such as habaneros or ghost peppers, to make a fiery hot sauce.
Combine and Contrast
Mixing and matching various kinds of peppers is one of the most effective methods for producing a fermented hot sauce that is rich in flavor. If you want to create the right flavor, try mixing hot and mild peppers. 
Choose Ripe Peppers
You must select ripe peppers when shopping for peppers to use in producing your fermented hot sauce. Ripe peppers will have a taste that is sweeter and more nuanced. 
Choose peppers with a solid texture and a uniform color throughout.
Take into account the Taste.
There is a wide range of peppers, each of which can have its distinct flavor and aroma. The flavor of certain peppers can be described as fruity, while the flavor of others can be described as smoky or earthy. When selecting peppers to ferment into hot sauce, it is important to remember the flavor profile you seek.
Experiment
Feel free to try out a variety of peppers until you find one with the right flavor and level of heat for you. If you want to see how adding a new pepper affects your next hot sauce's taste, try adding a little. You could fall in love with a new type of pepper or a unique combination of peppers you've never tried before.
Unfermented vs. fermented hot sauce: How do they differ?
An unfermented hot sauce requires only the time it takes to measure and combine the ingredients. BAM! You have hot sauce.
Because of the time required for fermentation, a fermented hot sauce will take at least a week to be ready. Some recipes involve much more extended fermentation periods.
To ferment hot sauce, submerge the peppers in salt brine, seal them with an airtight lid, and place the jar in a shaded space for a week, at a minimum.
Tabasco and Sriracha are two famous fermented hot sauces.
Fermentation is a natural process where the microorganisms in yeast and bacteria convert carbs such as starch and sugar into alcohol or acids.
The alcohol or acids then act as a natural preservative, giving fermented foods a distinct zest and tartness. Fermentation also promotes the growth of beneficial bacteria, known as probiotics.
Like yogurt and kombucha, the fermented hot sauce contains naturally occurring probiotic bacteria. The most common bacteria in fermented hot sauce is lactobacillus, which helps our bodies break down food and better absorb nutrients. 
During fermentation, the bacteria start digesting food in our gut, making it easier to digest. Lactobacillus can also kill many of the harmful bacteria we have in our digestive tract.
Does fermentation impact the taste?
Fermented hot sauces are popular for having greater complexity in their flavor profiles when compared to unfermented ones. Fermentation affects each hot sauce ingredient differently, resulting in a more layered and nuanced taste. Unfermented hot sauces tend to have all ingredient flavors up front and in your face. 
I can't wait to try your fantastic fermented jalapeno hot sauce recipe! You can use it on just about everything, from tacos and salads to salads topped with cheese and crackers. Moreover, fermented hot sauce preserved in bottled form is an excellent present.
What are the best bottles for homemade hot sauce?
I like to save used hot sauce bottles, so any small bottle with a tight-fitting lid will do the trick in upcycling and reusing what you have.  
If you haven't stashed already, I suggest these hot sauce bottles from Amazon. They hold 5 fl. oz. and are available in a case of 12 or 24 bottles.
They are nice enough to use to package hot sauce for gift-giving.
Ways to Enjoy Fermented Hot Sauce
Now that you have learned how to pick the best peppers for making fermented hot sauces, what should you eat them with? Check out our list of ways to use fermented hot sauce.
Try pairing your fermented hot sauce with these meals and snacks:
Use as a dip on chips or crackers
Use as a condiment in nachos, tacos, burritos, quesadilla 
Whisk into soups and Top Ramin.
Add to a fresh green salad or potato salad
Stir into scrambled eggs, fried eggs, and omelets
Mix into guacamole, onion dip, hummus, or salad dressing.
Top off sauteed vegetables and rice
Mix it with mayo as a dip for fries
Now that you know more about peppers and have a handy formula to make fermented hot sauce from scratch, we hope you are excited to give it a whirl!
Did I answer everything you wanted to know about choosing the best peppers for making fermented hot sauce?
Banana peppers, Anaheim peppers, and green chilies are your best bet for a mild or medium hot sauce. In contrast, any combination of jalapeños, habanero peppers, scotch bonnets, and serrano peppers is perfect for a spicy hot fermented hot sauce.
With such wide varieties of peppers to consider, have fun and experience with it and make your own fermented hot sauce recipe.
For more fermenting recipes, try these: