Try This Delicious Fermented Jalapeño Recipe
Fermented Jalapeños are my obsession! This easy and versatile fermented jalapeños recipe will make the perfect bite of crispy, spicy, and, quite honestly, the best topper ever to any dish!
Simply add a little onion, garlic, sliced lemon, coin-sliced carrots or whatever ingredient you can think of to make this tangy and spicy fermented condiment.
How to Use Fermented Jalapeños
Once you start making your fermented jalapeños, you won't stop. They are so versatile you can put them on everything – hamburgers, chili, scrambled eggs, nacho supreme, breakfast burritos, you name it. Their tangy kick of spice makes them a great addition to any recipe.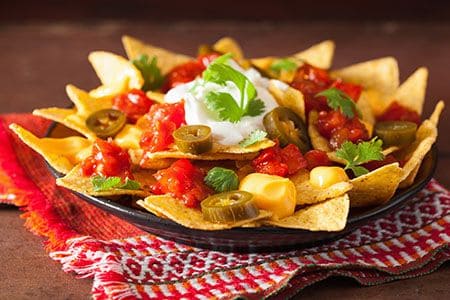 Jalapeños Health Benefits
Jalapeños don't just spice up your food; they are chock full of health benefits. Notably, Capsaicin, which is responsible for the pepper's heat, and Vitamin C – this powerful antioxidant helps protect against heart disease. But that's not all, these little peppers provide our bodies with so much more:
Jalapeños have high levels of Vitamin C, which help prevent healthy cells from mutating into cancerous cells.
Capsaicin also helps with weight loss, migraine relief, and can even help with nasal congestion by clearing the sinuses.
They help boost the immune system.
Jalapeños are high in Vitamin B-vitamin complex, such as folic acid, which is helpful to pregnant women. Just be sure to watch out for the heartburn!
First How to Cut a Jalapeño
Whatever you do, please remember to wear gloves when cutting jalapeños, and don't touch your face and especially your eyes while you are handling them. Jalapeños have spicy-hot oils in them that can cause burns on your hands and whatever skin you touch.
I speak from experience, it's excruciating.
The heat in jalapeños is found in the seeds and inner membranes. If you want to reduce the heat in this recipe, you can easily remove the seeds and membranes first by slicing the jalapeños in half lengthwise, and then use a small spoon to scoop out the seeds and membranes.
When I cut the jalapeños for this fermented recipe, I cut them horizontally into rounds and left in the membranes and seeds.
Yes, it was spicy,  but oh so delicious too!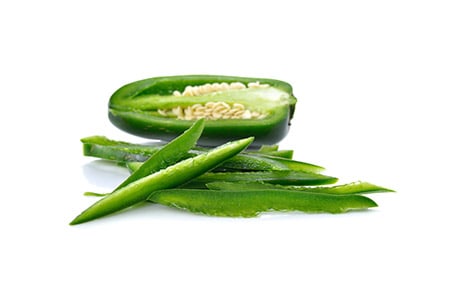 Don't forget your gloves!
Lacto-Fermented Jalapeño Recipe

These fermented jalapenos are the perfect bite of crispy, spicy, and, quite honestly, the best topper ever to any dish!

Notes
Great additions to this recipe include onions, garlic, sliced lemons, coin-sliced carrots, shallots, and fresh thyme.

Ingredients
10-12 jalapeño peppers or enough to fill two 16oz sized jars
3 Tablespoons Sea salt (Himalayan pink sea salt (Amazon link)
1/2 of one medium-size onion, sliced
4-5 medium-sized cloves of garlic, peeled
1 Quart of filtered water, chlorine-free
Instructions
In a saucepan, heat water. Add salt and stir till dissolved. Cool to room temperature.
Place the jalapeños, salt, onion, and garlic in jars. Top with water. Make sure to leave about an inch of headspace between the ferments and lid space.
To keep the ingredients below the water, place a glass weight on top or use a few folded-up cabbage leaves to push the jalapeños below the brine. You can even use two carrot sticks, just crisscross them.
Cover with lid or use an airlock lid.
If using a lid, be sure to "burp" your jar every day for the first week.
Let the jalapeños sit at room temperature for at least four days. After that, test your ferment to see if it has achieved the desired flavor. If not, reseal and continue another few days. I Like to wait about 3-4 weeks.
Once you are happy with the flavor of the jalapeño peppers, put a tight lid on the jar and move to the refrigerator.
© 2021 Copyright Fermenters Kitchen
How to Shop a Grocery Store & Online for Gut Health
More Fermentation Recipes
Now that you've learned all about how to make fermented jalapeños, here are a few things that you might find interesting…