This post may include affiliate links. As an Amazon Associate I earn from qualifying purchases.You can read my complete affiliate disclosure for more details.
Making Lacto-fermented salsa is easy and produces the most delicious and healthy condiment. Lacto-fermented salsa is a great way to preserve vegetables and add probiotics to your diet. 
Fermented Salsa - A Simple & Delicious Snack
Fresh tomatoes, paired with jalapenos, garlic, cilantro, and lemon juice, will make this fermented salsa recipe the perfect accompaniment to your favorite Mexican dishes or to eat straight up with chips.
Why make Lacto-fermented salsa?
The fermentation process gives the salsa a flavor boost and turns plain salsa into something unforgettable.
This mouth-watering salsa recipe is so simple it's almost a crime if you don't try! You won't be disappointed!
The same gut-healthy bacteria you get in sauerkraut also give this Lacto-fermented salsa its distinctive flavors, making it so mouth-watering and delicious. It's lively on the tastebuds without being too sour or too salty.
Tips for making Lacto-fermented Salsa:
If you don't have glass weights, use a ring of sliced onion or several cabbage leaves folded on the salsa to keep the vegetables below the brine.
Here is an article with suggestions on fermentation weights: how to keep vegetables below the brine. 
You can use a starter from a previous batch of ferments or stick with the saltwater brine and allow the process to happen naturally. Add a few teaspoons of salt brine from the previous batch of ferments, such as fermented jalapenos, to your salsa to give it a jump start on probiotics, basically like a starter.
Related: Best Pepper For Making Fermented Hot Sauce
Equipment you will need to make naturally fermented salsa: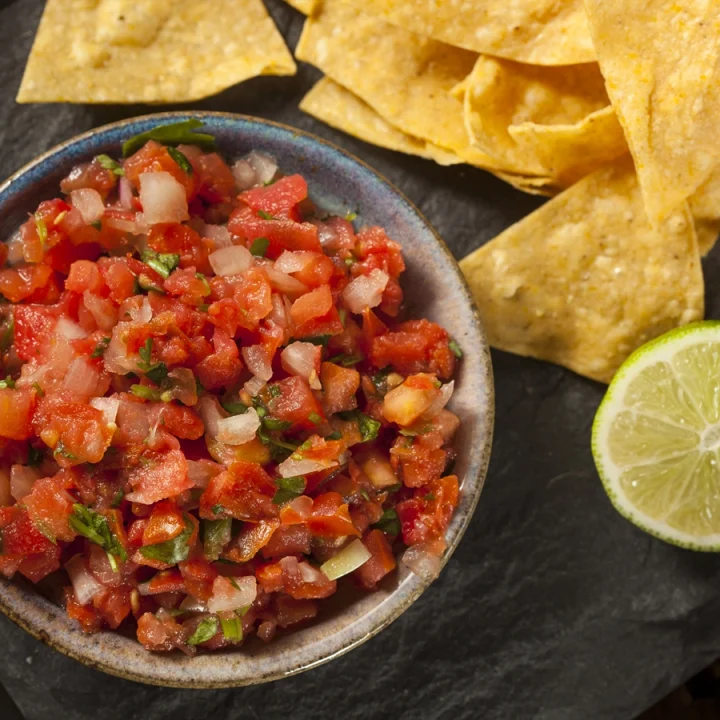 Lacto-Fermented Salsa
Homemade Lacto-fermented salsa! So easy to make and tastes out of this world! Perfect for dipping chips into or spreading all over some tasty tacos, nachos, or any favorite Mexican-inspired dish.
Ingredients
8 Tomatoes, chopped (include the juice)
3 Jalapenos, diced
1 Onion, diced
1 Clove Garlic, diced
2 Cilantro bunches
3 Tbs Lemon Juice
1 teaspoon Cumin
1 teaspoon Oregano
1 teaspoon Cayenne, optional
3 teaspoon Real Salt
Instructions
Dice the jalapenos, onions, and tomatoes the same size and add to a bowl, including the juice from the tomatoes.

De-seed the jalapeno before dicing if you want your salsa to be less spicy.

Chop the cilantro - use the leaves, not the stems.

Save as much tomato juice as possible to add to the bowl. The tomato juice will help create the brine. If the tomatoes are not that juicy, it is okay to add water.

Add seasonings, salt, and lemon juice, and mix well.

Add salsa to a wide-mouth mason jar and place a fermentation weight on top to keep the vegetables below the brine.

Cover the jar with a fermentation lid or a loose lid. You want the gases to escape without allowing anything in, like dust or bugs.

Let the jar sit on the counter at room temperature for 2 - 5 days to allow the fermentation. If your house is warm, it may take only one day to ferment.

Check the jar daily to ensure the vegetables are submerged under the brine. Add a little water to the jar as needed to keep the liquid level from falling below the vegetables.

Check out more homemade fermentation recipes from Fermenters Kitchen: