Jump to recipe
Super Easy Kimchi Pickled Eggs Recipe
Kimchi pickled eggs are absolutely delicious. Fermented eggs are so much more flavorful than your typical hard-boiled egg that after you try this recipe, you will never go back to non-fermented pickled eggs again.  
Nicely seasoned with mouthwatering kimchi flavors, the following kimchi pickled eggs recipe is perfect for snacking, adding to sandwiches, wraps, ramen noodles, egg salad, or a next-level deviled eggs recipe.  
There are several ways to go about making kimchi pickled eggs.  
The easiest is to layer hard-boiled eggs in a jar with kimchi and its liquid. Let it refrigerate for 2-3 days and eat. Done!  
At the time I was photographing the steps of this recipe, I was out of my homemade kimchi. So instead, I used store-bought kimchi by Wild Brine, which I can say full-heartedly is quite delicious with the perfect amount of spice. You can buy some here (Amazon link).
But I can say with high confidence; my kimchi recipe works great too, so give it a try if you like. kimchi recipe here.
Note: Using just the kimchi and its juices will keep the probiotics in the kimchi alive.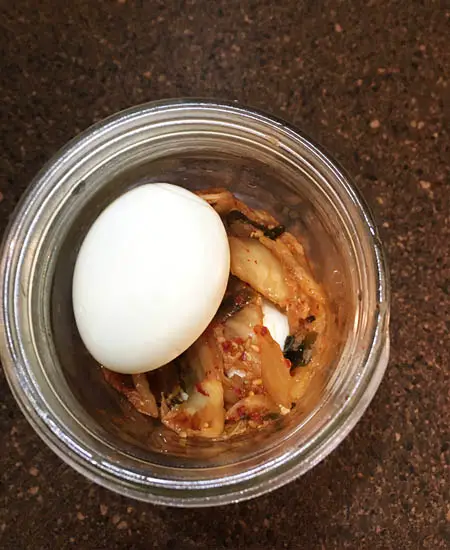 Why Use Pasture Raised Eggs In This Kimchi Pickled Egg Recipe?
The chickens are free to roam on open grassland
The chickens eat an organic diet, enjoy bugs and worms, see daylight 
Chickens are not given hormones or antibiotics  
Have better nutritional profiles in vitamins A, E, beta-carotene, Omega-3's, etc. 
How To Make Kimchi Pickled Eggs with Vinegar
Another off-the-charts way to make kimchi pickled eggs is to combine vinegar and a little spice to the kimchi and eggs.   
Combine white vinegar, seasoned rice vinegar, and Korean red pepper in a bowl and set aside.
Place about an inch of kimchi in the jar
Place two-three eggs on top of the kimchi
Sprinkle in the scallions
Continue layering kimchi, eggs, and scallions until the jar is full. The final layer should be kimchi.
Gently press the whole thing down.
Pour the vinegar mixture into the jar and any leftover kimchi brine, making sure the eggs are completely covered.
Top with the lid and give it a gentle shake.
Allow to sit in the refrigerator for 2-3 days
Be aware that when you add vinegar to fermented foods, it destroys much of the good bacteria too. The lactic-acid bacteria will be stunted, unable to natural-preservative qualities that are desirable in Lacto-fermentation.
While pickled foods offer some probiotic benefit, it is best to eat a variety of traditionally fermented foods to increase the variety of good bacteria in your gut microbiome.
If you are eating kimchi for the probiotic benefit, I suggest following the first recipe without any added vinegar.
If you are just in it to reap the rewards of a tangy delicious kimchi pickled egg than by all means, the second recipe is perfect for you too.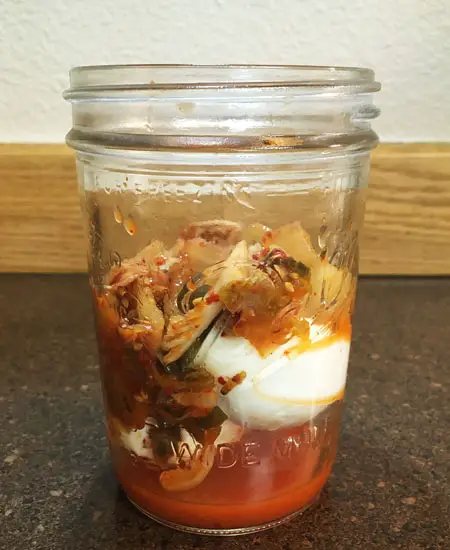 [amalinkspro_table id="5032" aff-id="fermenterskit-20" new-window="on" nofollow="on" addtocart="off" /]
Kimchi Pickled Eggs

Make easy homemade Kimchi Pickled Eggs. A superb combination of kimchi and freshly boiled eggs in this fun easy recipe, a healthy protein-packed snack ready in 2 days!
Ingredients
White vinegar
Seasoned rice vinegar
Korean red pepper flakes (gochugaru) Order here
Scallions
Pasture-raised boiled eggs
Kimchi
Instructions
Combine the white vinegar, seasoned rice vinegar, and Korean red pepper in a bowl and set aside.
First place about an inch of kimchi in the jar
Place two-three eggs on top of the kimchi
Sprinkle in the scallions
Continue layering kimchi, eggs, and scallions until the jar is full. The final layer should be kimchi.
Gently press the whole thing down.
Pour the vinegar mixture into the jar, making sure the eggs are completely covered.
Top with the lid and give it a gentle shake.
Allow to sit in the refrigerator for 2-3 days
© 2023 Copyright Fermenters Kitchen
Looking for something else? Try one of these gut-healthy homemade fermented food recipes here: