This mouthwatering and easy sauerkraut recipe made with whole juniper berries and caraway seeds will leave you asking for more. The caraway seeds a relatively easy to find - check the spice section in any grocery store. However, Juniper berries are a little more unusual. I found them online through Amazon and Walmart. 
It is easy to make your fermented sauerkraut, as you rely on the bacteria in the cabbage leaves to assist fermentation. The salt added draws out the water, kills the spoilage bacteria, and fermenting begins.
Ingredients for Juniper and Caraway Sauerkraut
One medium green or red cabbage (about 2 lbs)
12 juniper berries
2 teaspoons of caraway seeds, crush for more seasoning
2 tablespoons sea salt
Note: add fennel seeds, cumin, dill, or anise seeds for additional flavor.
Making juniper and caraway seed sauerkraut is very similar to traditional sauerkraut. 
For FAQs and how to make sauerkraut, check out my homemade sauerkraut recipe.
Directions
Remove the outermost leaves of the cabbage and slice or shred the cabbage as finely as you like with a sharp knife or mandoline vegetable slicer.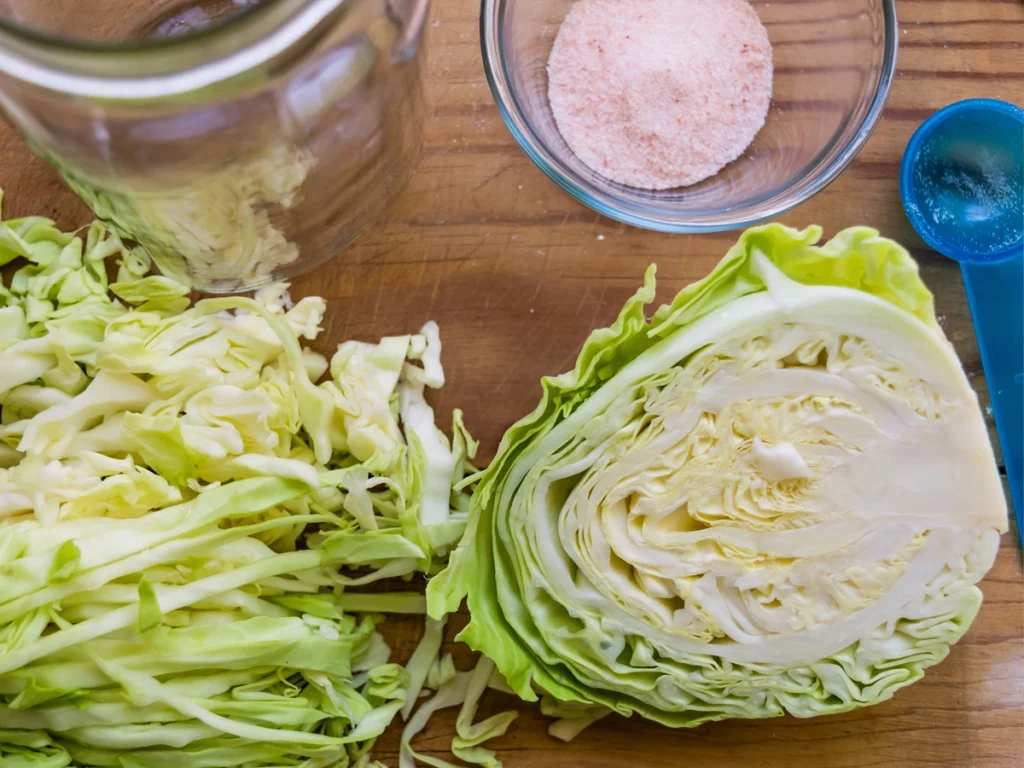 Mix the cabbage, salt, crushed caraway, and juniper in a large bowl. 
Add the season and salt a little at a time and adjust to your taste preferences.
Massage the cabbage mixture by squeezing it with your hands. Repeat this step 3 - 4 times until liquid starts running freely from the cabbage when you press it.
To make the salt brine, you need plenty of cabbage juice (water from the broken-down cabbage cells). Once the cabbage starts to get soft and gives up the juice, you can pour it all into a wide-mouth jar or fermentation crock.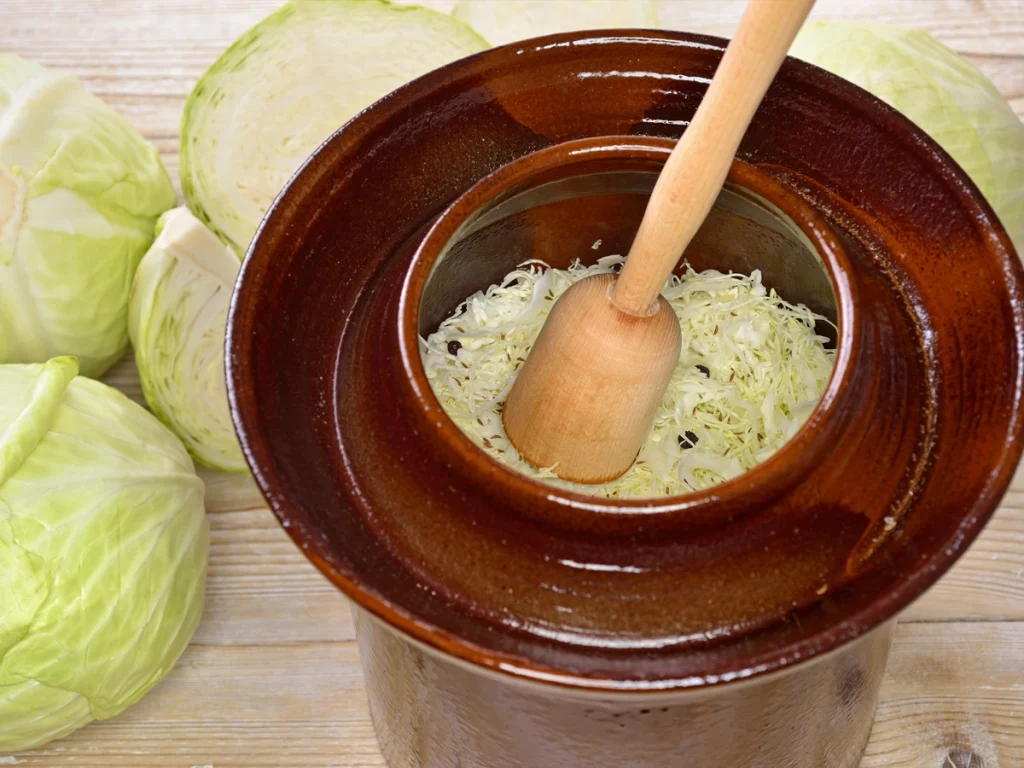 Press the vegetables down firmly to eliminate air pockets. Pour any remaining liquid from the mixing bowl into the jar to cover all ingredients. 
Leave about one to two inches of head space for the glass fermentation weight. 
Close the lid and leave it at room temperature. Sauerkraut can ferment for anywhere between 5 days on up to a year. It is important to taste-test it and place it in the refrigerator after it has achieved your desired taste. 
Check on the jars of sauerkraut once a day for the first several days to ensure all the ingredients are under the brine and do not dry out.
A fermentation kit like the MasonTops Fermentation Kit will help the recipe succeed. 
Further reading: How Much Salt to use to Make Sauerkraut, The Best Cabbage for Sauerkraut
Find out what to look for on the label when buying gut-healthy sauerkraut so that you purchase the good stuff. Does store-bought sauerkraut have probiotics?