Does Sauerkraut Go Bad? Unopened, sealed containers of sauerkraut can last several months, but opened sauerkraut can go bad. Fresh, homemade sauerkraut that is refrigerated can last four to six months after opening.
Sealing the jar after each use is critical to prevent new bacteria from coming in contact with it; it can immediately become spoiled.
In other cases, while you might love your jar of fermented cabbagey goodness, it's not uncommon to see sights or smells that make you wonder if your favorite probiotic condiment is still safe to eat.
This article will look at all the essential signs you need to know to determine if your sauerkraut has gone bad, including the most alarming colors, smells, and growths. 
This article will also cover what happens if you eat bad sauerkraut, whether or not it will go bad in the refrigerator, and how you can keep your favorite jar of fermented cabbage from expiring.
Can Sauerkraut Go Bad?
Sauerkraut can go bad, unfortunately. But due to the fermentation process used to make sauerkraut, it does have an extended shelf life compared to many other condiments. 
Since the thinly sliced cabbage is fermented and salted, it builds up a body of probiotics that keep harmful bacteria and yeast from taking over. As the sauerkraut sits, though, it does eventually go bad.
Related: Pick the Best Cabbage for Sauerkraut, Best Temperature for Fermentation
Once you've opened a jar of pasteurized sauerkraut, you can expect it to last for around six months as long as you store it properly in a sealed container in your refrigerator. 
Putting your sauerkraut towards the back of the fridge is better than in the door since it will be kept consistently cool even when you open the door. 
If possible, keep the sauerkraut in a jar since it seems to last better in glass containers.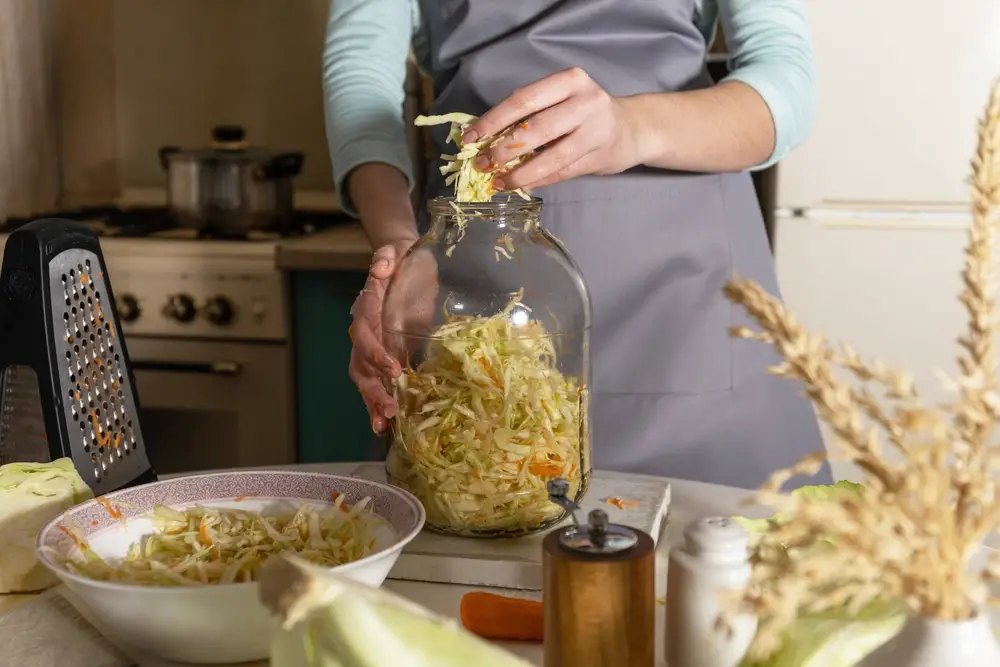 How to Tell If Sauerkraut Is Bad
If you have pasteurized sauerkraut, you can generally start to check whether or not it's gone bad by checking the best-by date. If your kraut hasn't expired yet, you'll still need to inspect it to ensure it's safe to eat.
But if it's past the best-by date, you're probably better off making or purchasing a new jar of sauerkraut. (Unpasteurized jarred or canned sauerkraut generally lasts around six months, as long as it's been made with the proper fermentation process and stored in a properly sealed jar or can in a dark, dry, and cool space.)
You can look for a few bacterial growth signs to see if your sauerkraut has gone bad.
Look at the sauerkraut. You may notice fuzzy patches or slime if mold has grown, while yeast may result in cloudiness. If it has any inconsistencies, including strange spots, an unusually dark color, or an exceptionally light and cloudy brine, you should discard the sauerkraut. One of the first signs of bacterial growth and mold is a change in appearance, so it's essential to be cautious if anything looks off. 
Smell the sauerkraut. Sauerkraut already has a distinctively sour smell, but if the bacterial microbiome has changed, you should be able to smell the difference. If it smells strange or extremely sour, you're better off discarding the sauerkraut. 
Inspect the texture of the sauerkraut. Sauerkraut should be crispy and fresh. If it seems soft, slimy, mushy, or sticky, you should discard the sauerkraut. If the brine appears to have an unusual consistency, it's probably better to discard it. Unusual changes in the texture of the sauerkraut indicate that it's starting to expire. 
If the refrigerated sauerkraut looks, feels and smells okay, you can try tasting it. You should only taste a small amount. If it doesn't taste exactly as expected, you should discard the jar of sauerkraut. Changes in flavor are a clear sign of dangerous bacterial growth. 
What Happens If You Eat Bad Sauerkraut?
The reason sauerkraut is such a delicious and long-lasting condiment is due to the fermentation process it's made with, which results in the considerable growth of healthy and safe-to-eat bacteria. 
However, when dangerous bacteria grow inside the mixture, sauerkraut loses the distinct tangy and salty flavor that makes it so delicious and extremely dangerous to consume.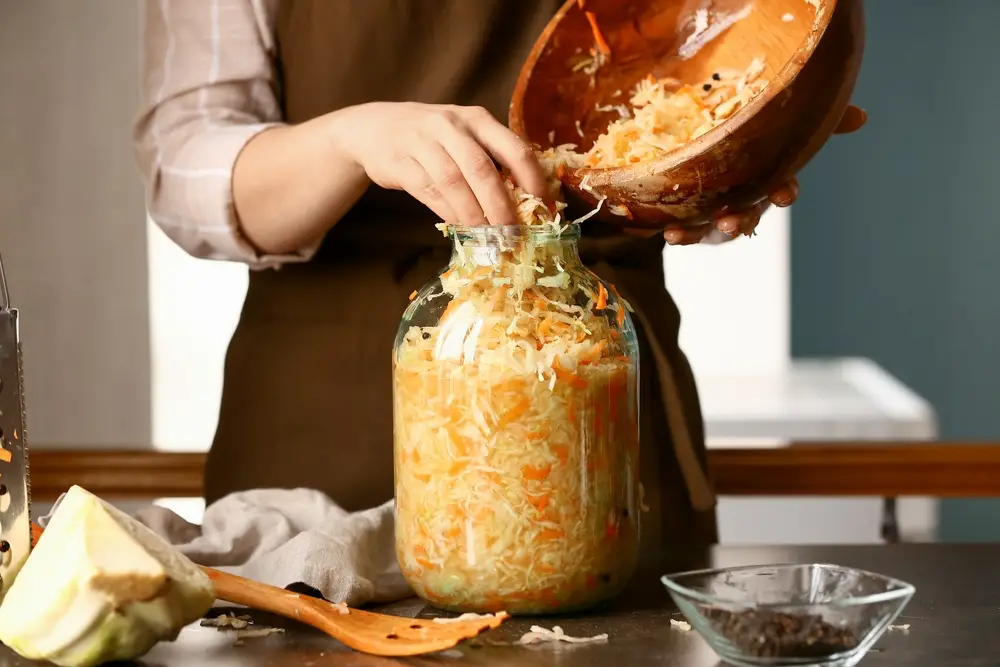 If you eat bad sauerkraut, you will be introducing hazardous bacteria into your digestive system. Just as probiotic foods cause good bacteria to grow inside your stomach and intestines, rotten sauerkraut will cause infectious diseases to grow out of control inside your digestive system. 
This can quickly result in food poisoning. As the symptoms like diarrhea, vomiting, and fever progress, you may need medical intervention to recover from the food poisoning. 
Can Sauerkraut Go Bad In The Refrigerator?
While the refrigerator is the ideal space to keep your opened sauerkraut to keep it from expiring, it can still go bad inside the fridge. You generally have around six months after opening your sauerkraut to consume the jar before it starts to risk spoilage. 
You can reduce the risk of your sauerkraut spoiling by storing it properly.
To store your sauerkraut correctly, keep it inside a glass jar that properly seals. This will keep the condiment from drying out. 
It would be best to store it towards the back of the refrigerator in one of the drawers or shelves instead of in the fridge door since this will reduce exposure to warm temperatures when you open the fridge. 
How to Keep Sauerkraut from Expiring
Store your kraut at the correct temperatures. You should store sauerkraut in the refrigerator. It will expire significantly quicker if you leave it on the shelf. While this fermented cabbage condiment does have a healthy biome of bacteria and plenty of salt that protects it from spoilage, it doesn't take long for bad bacteria to reach the brine and start reproducing.
Keep your sauerkraut in the correct container. A sealed glass jar is ideal. Plastic-sealed containers are okay for storing sauerkraut but not as effective as glass. If you bought canned sauerkraut, you'd need to transfer it to a plastic or glass container before you can refrigerate it.
Store your sauerkraut in a dark, dry space. This is especially important before you've opened the sauerkraut since it will last much longer in a dark pantry than on the countertops.
If you want your kraut to last for a long time, you can store it in the freezer, jar it in the cellar, or even put it in cans. However, it would help if you researched how to use each storage method properly to prevent spoilage. This is particularly important with unpasteurized sauerkraut. 
Final Thoughts
Sauerkraut is a delicious addition to any pantry. But whether you're looking to store pasteurized sauerkraut or homemade canned sauerkraut, it's essential to make sure that it will be safe for you to eat. With the right knowledge, preventing and identifying spoilage is simple.
Related Topics: