Have you bought some kimchi and noticed it fizzing, bubbling up, and even popping out of the jar as you opened it up? This probably left you asking, 'is store-bought kimchi supposed to fizz and bubble when you open it?' or 'why is kimchi fizzy?'
The answer is 'Yes'; it is totally normal for unopened kimchi to be fizzy and bubble after opening a jar for the first time. 
Why is Kimchi Fizzy? What causes the fizziness in kimchi?
Kimchi is a fermented food, and fermentation involves microorganisms, such as yeast and bacteria, enzymatically breaking down carbohydrates to produce carbon dioxide, organic acids, or alcohol. 
The buildup of carbon dioxide is what causes the fizziness in kimchi and your tongue to tingly when you take a bite.
However, that does not mean that every jar of kimchi will be fizzy. Some jars will be flat, which is fine. It depends on how active the fermentation is and what stage it is in when you open the jar. Either way, fizzy or flat, the kimchi is good. 
Kimchi is a fermented food that will build pressure inside the jar during the fermentation process. When opened, the pressure from CO2 buildup is released. It is a normal part of natural fermentation, which results in the bubbles making their way to the surface, causing a fizzy or tingly effect. 
Is fizzy kimchi bad?
No, that fizzy sensation in kimchi is a good sign that kimchi is ready to eat. 
Taking a bite of well-fermented kimchi can remind you of the sensation of eating Pop-Rocks. Remember those fun packets of candies from the 80s? Blueberry Razz was my favorite!
The buildup of gas bubbles is the result of successful fermentation. 
So do not toss out kimchi just because it is fizzy. Eat it up!
Related Topic: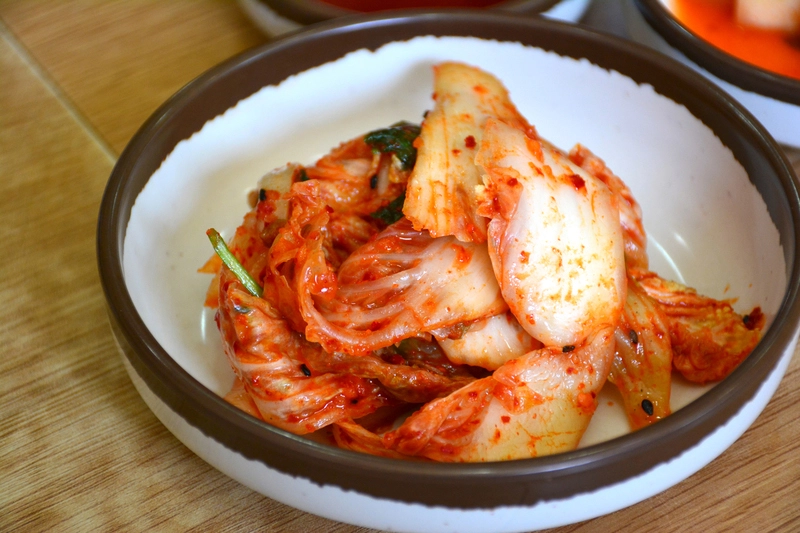 How to Stop The Fizziness in Kimchi
Now, if you can't bring yourself to enjoy tingly or fizzy kimchi, there are several ways to prevent or stop the fizzy sensation of kimchi.
1. Let the Kimchi Rest
Place the kimchi on a plate for about 15 minutes before eating to dissipate the bubbles or fizz.
2. Burb Kimchi Regularly
Whether you have a jar of store-bought kimchi or you made your own. Be sure to burb it every few days to release the gas buildup from the CO2. Burping a jar of kimchi will help keep the fizzy effect at bay and prevent the jar from exploding.
3. Cook Kimchi
Cooking kimchi with your favorite dish will help remove the fizziness.
4. Ferment Kimchi for a Shorter Duration
If you have ever searched online for a 'kimchi recipe,' you know there are many different ingredients, methods, and suggested lengths of fermentation for making homemade kimchi. 
Some kimchi recipes suggest leaving the kimchi on the counter for 1 -2 days. At the same time, others suggest fermenting in an airtight container for 4 -5 weeks or even a year. It all depends on your preference. 
However, If you want to prevent the fizzy effect in kimchi, you should do a very short ferment by letting it sit on the counter for one night and promptly store it in the refrigerator.  
5. Ferment in the Refridgerator
Due to the cooler temperature, the fermentation process will continue but extremely slowly.
The lid on my kimchi is bulging, is that normal?
A bulging lid on a kimchi jar is a common sign of good kimchi. 
The bulging lid happens as the kimchi ferments and the gasses create pressure, pushing the top up.
Be careful opening a jar of kimchi that has a bulging lid. Start by slowly opening the lid, ensuring it is over a bowl or in the kitchen sink. You might even want to do it outside.
Why is my kimchi not fizzing?
If your kimchi is not fizzing to your liking, let it sit out at room temperature to ferment longer. The longer the kimchi ferments, the more bubbling, and fizzing will occur.
How to Tell if Kimchi is Bad
The tell-tale sign of bad kimchi is mold, as in a white film growing on the top of the jar or top layer of the kimchi. 
The smell is the next big sign for determining if kimchi has gone bad. 
Now kimchi is famous for its 'foul odor,' but this odor will make your stomach turn. 
There is a difference; your senses will tell you when kimchi has gone bad and you should toss it out. 
Best Kimchi Fermentation Crock
E-Jen, make unique and clever fermentation crocks perfect for homemade kimchi. 
E-Jen offers many sizes of crocks and has an air nozzle that makes it easy to burp the ferment without making a mess. Regularly burping kimchi will help reduce fizziness.
The double lids contain odors better than most containers, preventing them from permeating your home.
The crocks also have a genius adjustable inner pressing plate that minimizes air inside the container, promoting an anaerobic state benefiting the growth of probiotics (lactobacillus).
The inner plate allows easy lid position adjustment according to the food level.
They make the container with a high-quality, durable polypropylene plastic mixed with 7-10% natural clay to create fine pores, keeping the food fresh while preventing harmful (aerobic) bacteria from thriving.
E-Jen Premium Kimchi Fermentation Crock
Easy to Use! Essential product for storing and fermenting kimchi, pickling vegetables, and making delicious sauerkraut.
Simplicity! The combination of ancient Korean earthenware principles and modern technology with the highest quality polypropylene plastic makes the ideal fermenter.
Healthy! Adjustable inner pressing plate minimizes air inside container, promoting an anaerobic state benefiting the growth of probiotics (lactobacillus).
Odor free! Double lids (including inner lid) contains and blocks odor and smells better than most containers, also in kitchens and refrigerators.
Safe! Food safe, dishwasher safe, freezer safe, microwave safe, heat and cold resistant. All materials are BPA, DEHP and lead free.
Last update on 2023-11-27 / Affiliate links / Images from Amazon Product Advertising API
Did I answer everything you wanted to know about why kimchi is fizzy?
We went over why kimchi is fizzy, is it safe to eat fizzy kimchi, and how to prevent fizzy kimchi. 
Kimchi fizzing as you open the jar is a regular occurrence with kimchi. 
The fermentation process causes kimchi to fizz and gives it an effervescent effect. Fizzing kimchi is like a can of carbonated soda and is perfectly normal to eat. 
There are several easy ways to remove the fizz if you do not like it in your kimchi. The easiest and quickest way is to set it on a plate for a few minutes, and the fizziness will dissipate.
Related Topics: